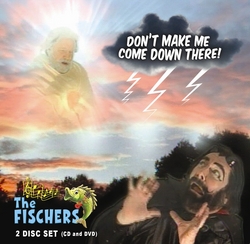 Don't Make Me Come Down There.
Branson, MO (PRWEB) September 24, 2008
The song "Get Out and Vote." on the new CD/DVD "Don't Make Me Come Down There" by The Fischers addresses head-on such controversial issues as abortion, gay marriage, illegal immigration, slack politicians, and left versus right, all in just under 3 minutes of explosive, heart-pumping music.
http://www.thefischers.net/getoutandvote.cfm
Mike Fischer, while watching The O'Reilly Factor back in 2004, heard a prominent Baptist claim that 3 out of 4 Christians didn't vote in the previous election. "I couldn't believe it." said Fischer. "I was outraged. I grabbed my guitar, and, within a matter of minutes, the song was finished."
Fischer believes, "In this election of 2008, it is absolutely inexcusable for any true believer not to vote. At this crucial time in our nation's history, with so much at stake, we must get out and vote for Godly values, the values that America was founded on. "We need to stand up and be counted. We need to rally one another. Anyone considering not voting should remember that 'The only thing necessary for the triumph of evil is that good men do nothing." If we don't "get out and vote, the Devil will."
Fischer, 61, who served 24 years overseas in mission work, is appalled at the horrible, spiritual condition to which America has sunk in the past half-century. He quotes Psalm 9:17: "The wicked shall be turned into hell and all the nations that forget God."
Fischer emphasizes, "It's the 'forget God' part of which we in America are particularly guilty. We are a nation founded on Biblical principles by Christians--people with a strong faith in God and a respect for His Word. He is what made us the greatest, most powerful, most respected nation on earth. Now that we have turned our back on Him, we should not be surprised when showing him our backside that He gives us all a good, swift kick in the butt."
The new CD cover identifies God in the clouds shaking His finger and saying, "Don't Make Me Come Down There." That is also the title of the project's title. Fischer says, "I believe God has got a right to be angry. After all, we've thrown Him out of our schools, made it illegal for our children to pray in school, taught them that God did not create the heavens and the earth, as the Bible teaches, but that there was a 'Big Bang' and millions of years of 'evil-ution." To date, 43-million blessings of God have been aborted, while men and women across our country embrace and support this sacrifice of human life by calling it "choice."
Deuteronomy 30:19 (NIV) "This day I call heaven and earth as witnesses against you that I have set before you life and death, blessings and curses. Now choose life, so that you and your children may live." Fischer says, "Could it be any clearer? America, this is an open-book test; God is revealing to you the right answer--Choose Life. America, It's time to wake up and turn around!"
The Fischers are a family of Christian entertainers, Mike, Karyn, Sam (11) and Reuben (7). Performing together since 2003, they currently reside in Branson, Missouri.
The CD "Don't Make Me Come Down There" contains six "issue-oriented" songs, including, "Stone-Cold Dead," a gutsy, in-your-face declaration on the right to bear arms. It challenges, "Ain't no way they're gettin' my guns unless I'm stone-cold dead."
"The Famine" is a beautiful, heart-touching song describing the desperate cry for truth and love in our country, and offering the solution to this generation's spiritual needs.
"He's My Daddy" gives an energetic exchange between a young boy and his Dad of the ups and downs in their lives together.
"Baby Boogie," Life from conception is seen through the eyes of a child who loves and praises his mother for being willing to carry him through to birth, giving him his chance to rock and roll.
"Did Charlie Make a Monkey Out of You?" Sam Fischer plays the hilarious "Professor Poopfossil," exposing the foolishness of 'evil-ution.'
For more information on The Fischers and the CD/DVD set, audio and video downloads, go to http://www.thefischers.net. Thank you for your support. Please, Get Out And Vote.!
For bookings and interviews, please call Mike at: (417) 671-9947 or email: bookings @ thefischers.net
###