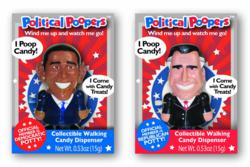 Los Angeles, CA (PRWEB) September 19, 2012
Treat Street introduces Obama and Romney collectible dispensers that poop candy treats. Just wind these little guys up and watch them go. Political Poopers are the must-have collector's item for the 2012 presidential race to the White House (or the Outhouse).
The plastic wind-up toys of grinning Republican Candidate Mitt Romney and Presidential Incumbent Barack Obama come with red, white and blue candy treats. Pop open a secret hatch on the back of their head, fill with candy, wind them up and set them off and running. Race the toys against each other in a wind-up poop-off.
Political Poopers' "poop-ularity poll," shows Obama in a tight lead with 53% and Romney is in the #2 position with 47% of the vote based on actual sales. The general polling based on consumer votes shows Obama with a much greater lead. Of course, no one will know until November who will win the election, but the "poop-ularity poll" will be updating the poll numbers regularly in the race to the finish.
Political Poopers are available nationwide at gift and specialty retailers. Log on to http://www.politicalpoopers.com for a complete list of stores. Whether you're rooting for the Republican or Democratic Party – just remember – every Party needs a Pooper!