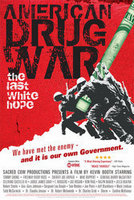 Drug addiction is a medical problem and a spiritual problem
Los Angeles, CA (PRWEB) June 24, 2008
After losing several family members and friends to the legal, and statistically most lethal drugs of alcohol, tobacco, and prescription pharmaceuticals, filmmaker Kevin Booth set out on a four year journey to separate the facts from the propaganda and get to the bottom of why the War on Drugs is simply not working. "American Drug War shows how money, power and greed have corrupted not just drug pushers and dope fiends, but an entire government. More importantly, it shows what can be done about it," says Booth. "This is not some 'pro-drug' stoner film, but a collection of expert testimonials from the ground troops on the front lines of the drug war, the ones who are fighting it and the ones who are living it."
Fresh from winning four first-place festival awards in 2007, American Drug War was picked up by Showtime (CBS) to air for the next two years. In an April episode of HBO's Real Time with Bill Maher, the panel was discussing the controversial remarks of Rev. Jeremiah Wright when musician and actor Esai Morales (NYPD Blue, Jehrico) voiced his opinion on this "phony" war and told everyone to learn more by watching American Drug War. He was unfortunately dismissed as a conspiracy theorist by Bill Maher; similar sentiments were echoed later by Bill O'Reilly on his Fox News show. However, at the country's largest annual drug reform conference put on by George Sorros's DrugPolicy.org, where the audience consisted of hundreds of narcotics and DEA agents, not one fact from the film was refuted. "It is now in the hands of those in the media to bring light to this issue," Kevin Booth says. "I know that my film will give them everything they need to start the discussion."
Five years in the making, American Drug War puts the spotlight on gang members, former DEA agents, CIA officers, narcotics officers, judges, politicians, prisoners and celebrities. The film features exclusive interviews with Freeway Ricky Ross, Tommy Chong, Sheriff Joe Arpaio, Michael Ruppert, Jello Biafra, General Barry McCaffrey, Cynthia McKinney, Joe Rogan, Robert Steele, Judge James Gray, Celerino Catillio III, Governor Gary Johnson, T. Rodgers (founder of the Bloods street gang), Ron Paul, Jeff Blackburn, Dr. Claudia Jensen, Sergeant Lou Daigle, Joe Pietri, Ralph Nader, Todd McCormick, Dr. Robert Melamede, Mack Lindsay, Dr. Charles Grob, and more.
"Drug addiction is a medical problem and a spiritual problem," says Booth, "it will never be solved by punishing sick people."
American Drug War is being released on DVD by Sacred Cow Productions and is co-distributed through Passion River Films and Baker & Taylor. Currently speaking at schools around the country while working on an American Drug War sequel as well as other documentary projects, Kevin Booth is available for interviews regarding the film or simply to discuss the War on Drugs itself.
For interviews, requests, and all other information, contact:
Trae Booth
323-472-7293
traebooth(at)adelphia.net
###