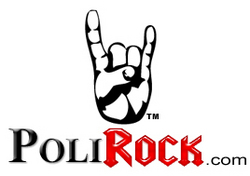 Bethesda, MD (PRWEB) June 23, 2008
While Barack Obama parades his rock-star persona from venue to venue in support of his candidacy, real rock stars all over the world are finding a venue of their own to peddle their political views: PoliRock.com.
PoliRock is a newly created social networking site that celebrates the age-old marriage of music and politics in a fresh way. Not unlike other major social networking sites, PoliRock enables its users - comprised of musicians and music listeners - to create personal profiles with photos and biographical information, browse through other people's profiles, and interact on numerous levels.
One such level of interaction that makes this site unique is its voting system. PoliRock would hardly have a political edge if every registered band wasn't also a candidate, campaigning for votes in a contest scheduled to end on Election Day (November 4, 2008). The unsigned artists with the most votes on election day will win prizes including a $5,000 grand prize.
But it's not all unsigned acts. PoliRock.com houses all types of musicians - from street buskers and garage rockers to stadium bands and dead legends - and each of them appointed to a specific subcategory: major label bands, indie label bands, and unsigned artists. Within these categories, every band is ranked from first to last place by how many votes they receive.
In addition to total votes, music fans are also voting on the political leanings of each band. Take U2 for instance. After more than 140,000 votes, PoliRock.com voters decided that they were predominately a Republican band, ranking fifth on that list.
Regardless of political affiliation, as the election race heats up, the politically-savvy musicians on PoliRock seem to be drumming up one of the louder electoral voices this year. And their listeners - mostly the young apathetic web surfers of America - may even be inspired enough to pick up a ballot, leaving us with one big question: who will they vote for?
The PoliRock.com Presidential Poll suggests that Obama is the most favored candidate among the PoliRocking demographic.
About PoliRock.com:
PoliRock.com is an Internet hub dedicated to politically charged music. It is the most widely used and highly regarded site of its kind. Described as Billboard Magazine meets American Idol, PoliRock.com is for musicians of all genres -- so long as they have a political voice -- to compete against each other for glory and prizes. Fans vote not only on which band is the most political, but also on the political leanings of each.
###