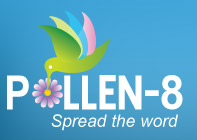 Competition for consumer attention has become even more intense. Couple this with the rise of bloggers and on-line reviews, and you have the perfect time to launch Pollen-8. --Chief Strategy Officer, Donna Star
Needham, MA (PRWEB) February 05, 2013
Pollen-8.com believes that bloggers and social media influencers of all levels can have an impact on sales and marketing trends by sharing their opinions through a wide range of social sites. A Pollen-8 reviewer can be an influential blogger with 10,000+ followers, or a niche Facebook or Twitter user with 200 followers. Pollen-8.com's community connects marketers and product reviewers based on a number of relevant criteria including: age, gender, region, interests, and social media influence.
At the same time each day, reviewers receive daily lists of products and services available for review. By using Pollen-8.com, reviewers can avoid being bombarded by pitches that aren't always a fit and instead scan through a categorized list that briefly spotlights each product. Once a reviewer finds a product or service they are interested in, they click that listing and go directly to their dashboard on the Pollen-8 website to learn expanded details. Then, all it takes is one simple click to connect with the marketer.
Reviewers and marketers have access to detailed information about each other and the products being pitched, to enable them to find the right match. They work together offline to finalize details of their arrangement, such as receiving free samples, coupons or compensation in exchange for a review.
Membership is free and each member is provided their own personal dashboard on pollen-8.com to manage and track the details of every campaign. Pollen-8.com members also have the opportunity to take advantage of affordable video production to help increase their SEO, and share their message or reviews in a noticeable way.
Product reviewers and social media influencers interested in learning more about Pollen-8, can visit http://www.pollen-8.com or contact Kelly Nowlin at 508-733-0618.