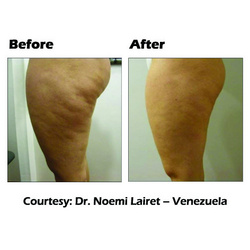 We are delighted to introduce TriPollar® technology to the Brazilian market. Brazil's aesthetic market is one of the fastest growing markets in the world & both aesthetic professionals & patients are constantly seeking the latest anti-aging technologies
Tel Aviv, Israel (PRWEB) December 7, 2009
Pollogen Ltd. announced today the receipt of ANVISA clearance to market their proprietary TriPollar® based aesthetic products in Brazil. ANVISA (Agencia Nacional de Vigilancia Sanitaria) is a Brazilian national health surveillance and regulatory agency charged with clearing all applications to market medical devices in Brazil.
Breakthrough TriPollar® technology, the most advanced 3rd generation Radio Frequency solution for facial and body contouring, is distributed exclusively by Pollogen's Brazilian partner, Sao Paulo based HV Com. Imp e Exp. Ltda.
TriPollar® technology has been clinically and histopathologically proven to tighten the skin, reduce cellulite and stretch marks, as well as contour the body. The safe and effective anti aging TriPollar® treatment is completely non-invasive, and is carried out in an office based environment. Results are visible immediately following the first treatment and long term results are achieved by undergoing a series of treatments. Thousands of patients worldwide have enjoyed the simple "lunch time" treatment and reported a painless and pleasant experience.
"We are delighted to introduce TriPollar® technology to the Brazilian market. Brazil's aesthetic market is one of the fastest growing markets in the world and both aesthetic professionals and patients are constantly seeking the latest anti aging technologies. TriPollar® based products have proven to be effective in treating a wide variety of aesthetic needs and we are excited to be offering TriPollar® based solutions in Brazil" said HV Com's CEO, Mr. Newton Martins.
Pollogen's CEO, Dr. Zion Azar stated: "The Brazilian market is a significant milestone for Pollogen and we are delighted to have received the ANVISA approval. Pollogen's global presence now covers over 60 countries and we are delighted to be in the forefront of aesthetic solutions that offer a non-surgical alternative that yields both immediate and long term anti-aging results."
About Pollogen:
Pollogen Ltd. develops, manufactures and markets professional medical aesthetic devices, powered by the TriPollar® 3rd generation Radio Frequency (RF) technology. Invented and perfected by Pollogen, proprietary TriPollar® technology powers a full line of clinically-proven, non-invasive and non-surgical treatment platforms for wrinkles, cellulite, circumference reduction and skin tightening. The flagship aesthetic devices, apollo™ and regen™ offer customers clinically-proven, safe and effective anti-aging beauty treatments that deliver immediate and long-lasting results. To learn more, please visit the Pollogen website at http://www.pollogen.com
Contact:
Name: Abigail Marks
Tel: + 972-54-244-5807
###