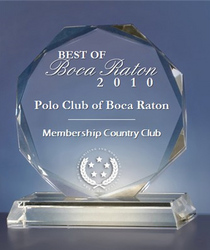 Recognized for their exceptional service to their Members and Community.
(PRWEB) June 10, 2010
Polo Club of Boca Raton has been selected for the 2010 Best of Boca Raton Award in the Membership Country Club category by the U.S. Commerce Association (USCA).
The USCA "Best of Local Business" Award Program recognizes outstanding local businesses throughout the country. Each year, the USCA identifies companies that they believe have achieved exceptional marketing success in their local community and business category. These are local companies that enhance the positive image of small business through service to their customers and community.
Various sources of information were gathered and analyzed to choose the winners in each category. The 2010 USCA Award Program focuses on quality, not quantity. Winners are determined based on the information gathered both internally by the USCA and data provided by third parties
The USCA was established to recognize the best of local businesses in their community. This organization works exclusively with local business owners, trade groups, professional associations, chambers of commerce and other business advertising and marketing groups.
About The Polo Club of Boca Raton
The Polo Club of Boca Raton is a premier private member-owned residential community in Palm Beach County providing world-class amenities and services to its members. The Club's desirable location and surroundings promote a healthy lifestyle, which is complimented by a friendly and caring membership.
The Club centers itself around a magnificent 145,000 square foot clubhouse with multiple dining venues, two championship golf courses, 29 tennis courts, a large outdoor pool with a children's activity center and a 35,000 square foot, world class spa and fitness center.
###