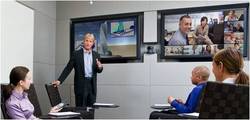 The Polycom UC Intelligent Core
Los Angeles, CA (Vocus) September 7, 2010
Solutionz Conferencing, Inc., a leading total conferencing provider of video conferencing, audio visual integrations, managed services, and grant services, will be co-hosting a webinar with Polycom on "The Polycom UC Intelligent Core" on Thursday, September 9th at 11:00AM PST.
Leading organizations are leveraging group collaboration solutions to improve their productivity, reduce costs, and align geographically-dispersed teams. Only Polycom delivers an infrastructure with intelligence built-in for today's enterprise – automatic fallover, redundancy, adaptive resource captivity, cost-effective scalability, virtualized call management – all tightly integrated with major Unified Communications ("UC") partners. Join Solutionz and Polycom for a special Webinar to learn how Polycom delivers an Intelligent Core built for Unified Communications, leading to a new era in customer benefits, including:

Lowest total cost of ownership and fastest ROI – up to 5% less bandwidth utilization savings over the leading competitor
Dynamic resource allocation and network flexibility providing up to 3.5 times more capacity than the leading competitor
Only native integration with leading UC applications and tools for wide-scale adoption and services delivery
Unsurpassed quality of experience combining Polycom UltimateHD and Lost Packet Recovery for high QoS even over the Internet
Join Solutionz and Polycom to learn how to get connected by registering for the Polycom UC Intelligent Core Webinar today!
About Solutionz
Solutionz Conferencing, Inc. is a nationwide total conferencing provider specializing in end-to-end video and voice communications, audio visual integration, managed services, and grant services, delivering the promise of face-to-face meetings regardless of distance.
###