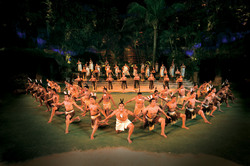 The night was truly magical and the response from the audience reinforced that Ha is poised to become another visitor favorite for years to come.
Laie, Hawaii (Vocus) August 20, 2009
The Polynesian Cultural Center (PCC) officially premiered its spectacular new Polynesian night show, "Ha: Breath of Life," to visitors and special guests on Friday, August 14. Its redesigned 2,675-seat Pacific Theater was host to a sold-out crowd that gave the cast and crew a standing ovation for their performance.
"After three years of development and an investment of $3 million, we were very excited for this day to finally arrive," said Delsa Moe, one of Ha's producers and director of cultural presentations at PCC. "The night was truly magical and the response from the audience reinforced that Ha is poised to become another visitor favorite for years to come."
Ha showcases more than 100 performers, many of whom are students at neighboring Brigham Young University - Hawaii and come from the various cultures they represent, who unite to perform a story about the lead character Mana, as he evolves through the universal life themes of boyhood, young love, respect and responsibility. All themes are central to the different Polynesian cultures and are relatable on a global level, relaying the message of family, hope, pride and heritage.
The newly designed stage creates an interactive experience that brings guests into the heart of the show. The lighting and sound systems have been upgraded and actors will appear from all angles of the theater, allowing guests to feel fully immersed in the performance. One of Ha's unique features is the use of playful and endearing Polynesian-style animation shown on large canvas screens to transition between each section and provides visual narration of the live story taking place on stage.
Original costumes, music compositions, chants and dances were produced with cultural experts from each of the Center's island villages to set the aural backdrop for each scene as Mana's life journey plays out through the Polynesian cultures of Hawaii, Tonga, New Zealand, Samoa, Tahiti and Fiji.
"What makes this show so remarkable and one of a kind is the fact that all guests will be able to relate to the storyline and themes," said Ray Magalei, director of marketing for PCC. "It has been 14 years since we've introduced a new night show at the Center. We are delighted to offer this new experience to our guests and know that Ha will appeal to all visitors whether they are first time, repeat or kamaaina."
Ha: Breath of Life is performed nightly at the PCC's Pacific Theater from Monday to Saturday at 7:30 p.m. All seating is reserved. Visitors are encouraged to book early. For reservations visit the PCC Web site at http://www.polynesia.com or call toll-free at 1-800-367-7060. In Hawaii, call 293-3333.
Founded in 1963 as a non-profit organization, the PCC has entertained more than 34 million visitors, while preserving and portraying the culture, arts, and crafts of Polynesia to the rest of the world. In addition, the PCC has provided financial assistance to 17,000 young people from more than 70 different countries while they attend Brigham Young University-Hawaii. As a non-profit organization, 100 percent of PCC's revenue is used for daily operations and to support education.
# # #