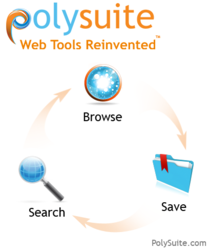 New York, NY (PRWEB) October 02, 2012
PolySuite, LLC announced the launch of a comprehensive suite of "reinvented" web tools. Specifically designed to meet today's challenges of navigating multiple websites simultaneously, the suite includes a powerful, yet easy-to-use Search Engine, Browser and Bookmarking System with patent-pending capabilities.
Invented in 1993, the Search Engine, Browser and Bookmark were originally designed to allow users to interact with only one website at a time. However, that capability is no longer sufficient, as modern-day internet use demands interaction with many websites. According to an industry report by Patrick Dubroy, "having 10 or 11 tabs open is not that uncommon, even for people who aren't 'power users." This finding was further supported by a Mozilla Labs Test Pilot Study, where their analysis stated that "there are plenty of users who have many more than 30 tabs open at a maximum. So while 10 tabs or less may be the most common state, there's effectively no upper bound on how many tabs people do open at a time."
"It is a pleasure to announce the launch of PolySuite," said Aaron T. Travis, Founder and CEO of PolySuite. "For the past two decades, we have seen exponential growth in the number of website applications and resources, yet our tools for searching, browsing and saving websites have remained virtually unchanged. PolySuite was created to close this gap and offer users a new suite of free web tools that make their online lives faster, more organized and ultimately easier."
Polysuite is comprised of three unique tools, which may be used together or independently:
PolyFetch - A high-powered search engine that combines a novel design with search tools that are not available through other search providers. PolyFetch includes:

Best-in-class technologies, such as search results by Google, comparison-shopping by Shopzilla, and local search by Yelp, to name a few
Quick-Search Filters, an easy way to bundle all of the terms used for a search topic into a single click. For example, the "How To" Quick-Search Filter automatically adds additional terms to the search, including: "instructions, help, guide, step-by-step," and many more
PolyFetch: Compare, which allows users to search multiple terms simultaneously and receive a score indicating how positively or negatively the internet views each of those terms
PolyBrowser - A patent-pending approach to browsing that enables users to navigate all of their websites simultaneously. Similarly to cards spread out horizontally on a table, users can move through their websites quickly with a single movement. The design naturally allows sites to be compared side-by-side without having to re-arrange browser windows. (PolyBrowser is coming soon.)
PolyMarks - is designed to increase the efficiency and usage of today's bookmarks. PolyMarks, which is also patent-pending, enables users to:

Capture numerous webpage links with one click and automatically save them as one page, called a PolyMark
Re-Launch their PolyMarked websites with one click on any device
Add notes and share their PolyMark pages with their network
Create and add to their PolyMarks through a patent-pending, Add-By-Email feature
Vasile Ardelean, financial analyst, said, "I use the suite of tools to conduct financial research because they help me to quickly find reviews and customer opinions about potential investments. I can capture my research and then easily move onto another project."
About PolySuite
PolySuite was founded in 2011 to create simple, yet powerful web tools that that make people's online lives easier. Find out more at PolySuite.com, and access company announcements at twitter.com/PolySuite