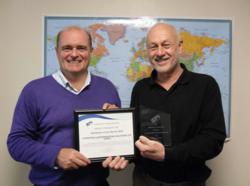 Lakewood, WA (PRWEB) April 30, 2013
Specialty Products, Inc. (SPI) is pleased to announce the "Distributor of the Year" Awards. These three awards recognize outstanding sales and superior customer service of SPI's innovative polyurea protective coating technology.
SPI's Distributor of the Year Award is our highest honor, recognizing a distributor who consistently works to deliver results. Hydrotech Waterproofing Solutions Ltd (HWSL), Hong Kong not only increased its sales substantially over the previous year, but has worked with SPI for almost a decade promoting SPI products in Asia. Tony McKee, Managing Director and Craig Kowalski, Technical Director have a combined talent that offers innovative solutions to their customers, handling most after sales support matters directly with great efficiency, and offering on-site consultation to their applicators. HWSL is also able to maintain a variety of SPI products in inventory to supply customers at short notice, as well as Graco parts and equipment.
On June 5, 2012 Hydrotech International Limited privatized its waterproofing business. The MPS business and intellectual property were transferred to Hydrotech Asia Limited. The coating and waterproofing business marketed under the name of Hydrotech Waterproofing Solutions Ltd (HWSL) headquartered in Hong Kong is now privately owned business and continues to service clients in Hong Kong, Macau, Mainland China and Taiwan, Hong Kong on their high performance waterproofing requirements.
SPI's Distributor Customer Growth Award is presented to Gragus Sudamerica, Buenos Aires as a result of their outstanding commercial activities over the previous year. When the Argentinian government unveiled a new political-economic strategy aimed toward decreasing imports with hopes of maintaining exports to achieve a more balanced result on international business, it had an adverse effect and almost crippled commerce & Gragus' business. Gragus Sudamerica thought outside the box, securing new business and projects in surrounding countries in South America, increasing their overall volume and sales growth.
Gragus Sudamerica is a one-stop-solution to their clientele by offering a good selection of SPI products and the spray equipment necessary to apply them. They also offer on-site consultation and set-up of the spray equipment.
Gragus Sudamerica was established in 1997 by Sergio Graneros. For more than 15 years they have been promoting, expanding and improving the technologies of Polyurethane and Polyurea in Argentina and South America. Along with SPI and GRACO they serve the market as a reference point for South America, offering world-class products and knowledge to applicators and industries all along the continent.
SPI's Distributor Best Newcomer Award is awarded to Applied Conveyor and Polymers (ACP), New Zealand for its outstanding performance in 2012. They are fully trained on SPI's complete range of products, and set-up a two week in-country training course to ensure their end users received in-depth technical knowledge on SPI products and solutions. ACP has quickly generated new demand and awareness for SPI solutions throughout New Zealand and Australia. We believe their success is based on a well-prepared business strategy and marketing campaign, with perfect execution covering all aspects of the Distributor/Vendor relationship. ACP maintains a large inventory of SPI products.
Established in 1998, privately owned Applied Conveyor and Polymers of Aukland, NZ is a full-fledged, one-stop Quarrying and Mining shop in regards to the supply of quality belting, rubber linings, conveyor idlers and belt cleaners, fasteners; ceramic and polyurethane. The range of products they have to offer to their customers has now grown to over 1500, including the introduction of SPI Polyurea in May 2012.
About Specialty Products, Inc.
Headquartered in Lakewood, Washington, Specialty Products, Inc. (SPI) is widely recognized as a global market leader and innovator in the manufacturing of polyurea elastomeric coatings, polyurethane foam systems, and plural-component application equipment. Founded in 1974 and privately-owned, SPI also has operations in Rowlett Texas, Chicago Illinois, and Anchorage Alaska. Specialty Products offers advanced, hands-on applicator training classes that are taught by a NACE certified instructor and coatings inspector. SPI clients receive the industry's best 24/7 tech-support from a technical staff with over 180 years of combined industry experience. Additional information about SPI is available at specialty-products.com
To learn more about SPI's advanced polyurea protective coatings, please contact:
Specialty Products, Inc. (SPI)
Cliff Haskins
VP of Marketing
Specialty Products, Inc.
2410 - 104th St. Ct. S., Suite D
Lakewood, WA 98499
(800) 627-0773
(253) 588-7101