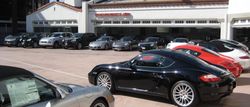 The team at Pomegranate is essentially taking our digital strategy from the proverbial 'on-ramp' to the 'super-highway.'
Los Angeles, CA (PRWEB) November 2, 2010
Innovative advertising and digital media agency Pomegranate today announced a formal agreement to act as agency of record for Beverly Hills Porsche. In this role, Pomegranate is responsible for developing a mixed-media strategy to help re-brand the dealership as a high-end customer experience destination in the luxury automotive realm, to increase the dealership's sales, and to extend their exceptional level of customer engagement into the digital world.
With Pomegranate's proprietary engaje.me platform at the center of the digital strategy, the Beverly Hills Porsche website and other online properties will provide an environment where automotive enthusiasts can connect over their shared passion. They will be able to ask questions, discuss news, and exchange ideas within the Porsche website—then share via social platforms including Facebook, Twitter, Google Buzz, YouTube, and more. With robust metrics, tracking, and reports, the engaje.me platform will help Beverly Hills Porsche to better understand and meet their customers' evolving needs.
"We've been experimenting with social media and have created quite a presence," says Jay Huffschmidt, Marketing Manager of Beverly Hills Porsche. "It was important for us to find a partner who understands this realm, and more importantly we wanted to partner with an agency that could help us make better use of it. The team at Pomegranate is essentially taking our digital strategy from the proverbial 'on-ramp' to the 'super-highway.'"
"The engaje.me platform helps transform any website into an online social destination and brings our clients a giant step closer to 'working and adapting in real-time'," says Grant Powell, CEO of Pomegranate. "It's the perfect way for Beverly Hills Porsche to bring their acclaimed customer support into the digital world, and create a holistic brand experience for today's technology-savvy consumers. It's an honor to be working alongside Beverly Hills Porsche to further extend their world-class reputation."
ABOUT POMEGRANATE
Founded in 2008, Pomegranate is an advertising and digital strategy agency that leverages technology to implement cutting-edge marketing campaigns that reshape the way brands engage and adapt to their audiences. Pomegranate's unique "network agency" model unites experienced creative directors, designers, engineers, and programmers within a streamlined organizational structure and value-assurance system. The team provides creative services including strategy and positioning; design and branding; marketing and advertising services such as SEO, interactive, e-mail marketing, and specialty Google YouTube projects; and technology solutions such as the engaje.me real-time social engagement platform, cloud hosting, ecommerce, and more. Satisfied clients include Google, YouTube, Bosch, Toyota, Scion, Kraft, Canon, Nestle, and Rock & Republic. For more information about Pomegranate, visit http://pom8.com.
###