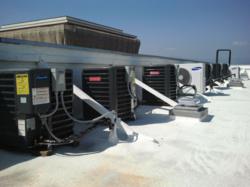 Los Angeles, CA (PRWEB) March 23, 2012
With southern California hot summer days around the corner, guests at the historical Mayfair Hotel in downtown Pomona will be able to stay cool with new air conditioners installed in 30 of their units.
The historical hotel has been on the northeast corner of Third and Garey in downtown Pomona since 1915, first as the Avis, then as the Edgar, and finally as the Mayfair in 1932. Clark Gable is said to have dined at the hotel's restaurant. The vertical hotel sign and fire escapes is a reminder that this five-story brick building is an historical icon. In fact, the official landmark was given protective status by the Pomona City Council.
However, the Mayfair Hotel has been empty for most of the past two decades following a fire in 1990. The property was recently purchased by an entrepreneur who has been renovating the property. A Subcool Air Conditioning took on the challenging project of installing new air conditioning units.
"The five-story hotel required installation of 21 split air conditioning units and seven Samsung multi-zone heat pump condensers that would run a total of 20 wall mounted air handling units," explains Ara Esagholian, CEO and President of A Subcool Air Conditioning, Inc. "We had to keep up with the fast paced construction. All the air conditioning equipment with refrigerant line sets needed to be installed and tested for leaks before the drywall was installed. In addition, 31 bathroom exhaust vents had to go straight to the roof through the fire rated shaft. This by itself was a huge hurdle to overcome."
Although the job proved to be challenging, with their knowledgeable and skilled staff, A Subcool Air Conditioning were able to complete the complicated job successfully. Unlike some HVAC companies, A Subcool Air Conditioning's staff consists of experts in mechanical engineering with many years of experience.
"Installers need to consider all the aspects of design components, such as air distribution, peripheral parts, and the whole system requirements, which must all match accurately," says Ara. "If installed correctly, the system will work properly, deliver the optimum cool and heating efficiencies, extend the life expectancy of equipment, and keep operating costs down."
With 25 years of experience and an A+ rating with the Better Business Bureau, A Subcool Air Conditioning has the skill to solve and troubleshoot any problem. Since 1990, they have installed, replaced existing equipment, and repaired heating and air conditioning equipment for residential, commercial, industrial, retail, and government projects. A Subcool Air Conditioning also provides installation and repair services for walk-in coolers, water chillers, and refrigeration equipment. For more information about this outstanding company, please visit their website at http://www.asubcool.com and http://www.ac-repair.biz.
About A Subcool Air Conditioning
A Subcool Air Conditioning offers families and businesses the best products and services with a level of customer service that exceeds client's expectations. Their services include air conditioning, heating, walk-in coolers, water chillers, and refrigeration equipment repair and services. They serve the greater Los Angeles area and San Fernando Valley including Van Nuys, Reseda, Northridge, Canoga Park, North Hollywood, Encino, Studio City, Sherman Oaks, Granada Hills, and Burbank.