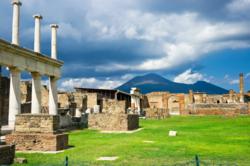 Everything in this thriving Roman city remains preserved as it was nearly two thousand year ago. There is really nothing in the world like it!
Boston, MA (PRWEB) May 08, 2012
Pompeii, or "the city entombed in time," has long been a fascination to archaeologists and tourists alike. Visitors to Pompeii walk back in time nearly two millennia to see first-hand what life was like in 79 AD, when Mt. Vesuvius erupted, encasing the entire city in volcanic ash and preserving a freeze-frame of daily life for future generations. The site attracts over 2.5 million visitors a year.
Due to neglect, however, the archaeological site is literally falling apart. Whole sections are collapsing—such as the "House of Gladiators," which fell to the ground over a year ago—creating serious concern about the sustainability of this archaeological treasure.
In light of this recent damage, the Italian government came out with a long-term plan for the protection of Pompeii. According to the New York Times, the European Commission will give €85 million for the restoration and conservation of the site. This project, named the Great Pompeii Project, is good news for Italy tourism, which garners millions of dollars every year from the Pompeii archaeological site alone.
Jean Moss, owner of small group tours company Olde Ipswich Tours, has been bringing fascinated travelers to Pompeii for over a decade. "Pompeii is truly a marvel! The tragic eruption which cost the lives of tens of thousands of Roman citizens in 79 AD also preserved, for us, a moment in time," says Moss, "Everything in this thriving Roman city remains preserved as it was; you can walk through an actual city from antiquity—exploring the buildings, admiring the artwork, and gaining fascinating insights into an age long past. There is really nothing in the world like it!"
No wonder, then, that she is thrilled with the Italian government's preservation plan. It will ensure that future travelers, such as those on Olde Ipswich Tours's 12-night tour of Italy—Rome, the Amalfi Coast and Sicily—will not be deprived of this historical and archaeological gem.
"These UNESCO sites are a cultural heritage that we should all guard and protect vigilantly," Moss asserts proudly, "and future generations will thank us for preserving these treasures for them to enjoy."
In addition to Pompeii, travelers on the Rome, the Amalfi Coast and Sicily tour this October will visit two other UNESCO World Heritage sites: the Valley of the Temples in Agrigento, Sicily, and Villa Romana del Casale in Piazza Armerina, Sicily.
"But although these sites are well worth the trip in themselves," says Moss, "I've always thought the real life experiences of Italian culture are equally fascinating and enjoyable." Which is why all of the tours to Europe that Olde Ipswich Tours offers include a delicate balance of the finer historical and cultural treasures with gourmet cuisine, winery visits, and charming regional accommodations.
To find out more about Olde Ipswich Tours's tour of Italy, including the spectacular archaeological site of Pompeii, please visit http://www.ipswichtours.com/sicily_rome.html or call (877) 356-5163.
Olde Ipswich Tours is a small group tours operator based in Ipswich, Massachusetts specializing in culturally rich, gourmet tours to Europe. For a complete list of upcoming small group tours, or to learn more about Olde Ipswich Tours, visit our site today.