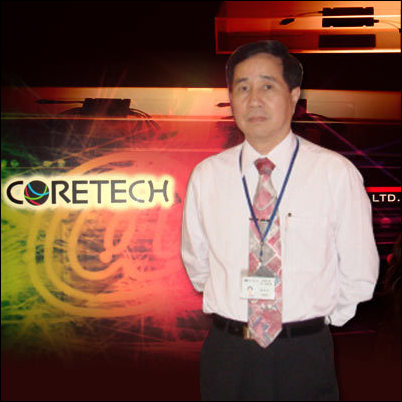 Lynbrook, NY (PRWEB) July 23, 2007
Chunghwa Telecom Co. has recently planed to invest 60 billion dollars in Optical Fiber Communication Networks development in the next five years. Called the Optical Generation Plan, the company aims to build an optical fiber framework to replace copper wire communications. This new plan will allow users to dramatically increase both speed and bandwidth. The technology has allowed Japanese NTT Communications to provide GEPON since 2004 and will power the Beijing China 2008 Olympic Games. There is no doubt that OFC technology is on the way to an important milestone, particularly with features aimed at FTTH (Fiber to The Home). This surge is a boon to Taiwanese application OFC manufacturers. However, the field had a really difficult time a few years ago.
Core-Tech Optical Co., Ltd (Core-Tech) provides innovative fiber solutions to the optical-fiber communications industry. The company is rather young in the Optical Fiber Communications (OFC) industry, only beginning that division in July 2002. However, the President Shu Sen Tieh is well known in the fields of LED, optical communications and lighting. He served as the manager of Opto-Electronic & Systems Laboratories (OES) at ITRI (Industrial Technology Research Institute) for 22 years.
All admired Mr Tieh's courage to enter the field during the OFC's great depression, while many manufacturers had seceded from the field or had huge losses on their investments, requiring bank loans to see them through. However Mr Tieh firmly believed the new technology G-PON or E-PON will revolutionize the telecommunications industry and play a major role in the advent of the Information Age. "I strongly believed optical fiber communication would lead the next generation; especially its key element, the splitter, would yield unusually brilliant results. I was sure this was the right direction. The worst is the best! We enter the field without investment in huge equipment. This benefit allows us spending more time on R&D."
Mr Tieh's out of ordinary opinion led Core-Tech toward success. The company is now regarded as one of only seven providers in the world of 1x4 fused-coupler mass produced using a specially designed optical fiber coupler machine. It is also the exclusive professional manufacturer in Taiwan. Now, Core-Tech provides world class manufacturing techniques with short lead times and competitively priced products while meeting or exceeding the most stringent quality standards. Besides being trusted for its product's reliability, Core-Tech is also acknowledged as an excellent product designer. In order to serve its customer better, Core-Tech introduces 3-in-1 multi functional optical fiber coupler machine, which can be used for R&D design, engineer testing and operator tasks. Not only does this user friendly device reduce the operators' training time to less than two weeks, it also can couple various splitters faster and with greater stability. Core-Tech's current main product range includes single-window fused splitter (1X2, 1X3, 1X4, 3X3, 1X8, 1x16/32 2x24,and 1x64), Single mode dual-window fused splitter (1X2, 1X3, 1X4, 3X3, 1X8, 1x12,1x16/32 and 1x64),WDM, Fiber coupler/Splitter module/Sub-system, and Other optical passive component -OEM/ODM.
Mr Tieh pointed out there is still many challenges for the OFC industry and the government can do a lot to encourage this industry. As a pioneer in the field, Mr Tieh is willing to share his wealth of experiences. On the other hand, Core-Tech expects to broaden its market base with the addition of these special types of products and by seeking partnerships. In fact several well known Taiwanese and international companies have already invested in Core-Tech.
Our international customers were surprised that we are able to provide 100,000 1X4 Fused-coupler within 10 months. They were even more astonished that all splitters passed the standard tests, such as, hot conduction test, stability test and shockproof test. In fact, all products pass 500 hours of tests before they leave the factory to ensure a 2,000 hour life.
More information is available at http://www.core-tech.com.tw |http://www.allproducts.com/ee/coretech/
###