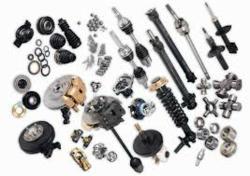 The foreign inventory of parts includes multiple automaker brands that are imported by company suppliers.
Sandusky, Ohio (PRWEB) June 25, 2013
The termination of Pontiac as a vehicle brand has created some parts shortages for U.S. buyers. The Auto Pros USA company sells preowned OEM auto parts online and is now including used Pontiac OEM parts for consumer sale at http://autoprosusa.com/used-pontiac-oem-parts. These parts represent a growing genuine parts inventory at this company in 2013.
An introductory pricing structure has been selected for consumers to benefit when searching for these parts replacements. These parts are now located inside the GM inventory of available parts for domestic shipments.
The Pontiac brand was one of the oldest in production for General Motors upon its termination. Millions of vehicles have been produced carrying the Pontiac nameplate and parts can now be more difficult to locate. Some dealers are unable to provide genuine parts for replacement and rely upon aftermarket units for resale.
The additions this year of Pontiac parts and accessories are designed to provide the resources that buyers cannot find using parts supply companies in local cities and towns. The online database created for parts research now displays multiple GM brands.
Online videos have been launched by the Auto Pros company this year to help promote various part types that are available for research and purchase. The video channel created at http://www.youtube.com/watch?v=jYY89lU4fLc is now updated regularly with new part types and information that is useful to the public.
"OEM parts can vary in cost depending on supply companies in the U.S.," a source from the Auto Pros company added. Purchasing genuine parts from authorized retailers is a typical way buyers receive parts for replacement in retired vehicles. The secondary distribution sources that are now used to supply the Pontiac and other GM parts help to generate pricing that is less than current suggested list prices.
"There are now hundreds of sources that are tapped to provide the parts listed for online sale," the source added. This rise in numbers of distributors providing customer fulfillment is making it possible to maintain a reduced purchase price for the quality of parts provided.
The OEM parts editions that are featured inside the company database now include more domestic and foreign units for sale. The Pontiac brand is one addition to the General Motors inventory now presented to buyers. The foreign inventory of parts includes multiple automaker brands that are imported by company suppliers.
A news release was published for consumers at http://www.prweb.com/releases/toyota-oem-parts/used-toyota-parts/prweb10626077.htm to make official notification of Toyota OEM parts to the preowned inventory for sale. Since this news was announced, Honda and Nissan parts have been included in the foreign genuine parts inventory for public sale.
About AutoProsUSA.com
The AutoProsUSA.com company constructed its auto parts website to deliver low pricing to consumers after negotiations with parts buyers have taken place. This company provides a discount price structure to consumers as one online alternative to paying retail pricing. The preowned supply chain network launched by this company in 2013 has resulted in better consumer pricing and faster deliveries for orders. The AutoProsUSA.com company built a programmed quotation system for buyers to use online when researching available parts inventory and pricing. A customer service team now monitors all telephone and online requests for parts information.