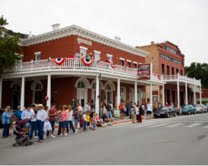 "It's rare to be able to experience a venue with deep cultural heritage in an untouched photographic paradise like Eureka"
(PRWEB) September 28, 2011
Set within the expansive pristine landscape along Nevada's Pony Express Route is the historic Eureka Opera House. And, what makes this opera house different from others is it's Northern Nevada's only fully operating state-of-the-art historic facility available for both private and public use. Located 240 miles east of Reno, the Eureka Opera House is a rich legacy of elegance, cultural heritage, entertainment, social gatherings, meetings and public tours.
Some may wonder, how can the modern comforts of a historic Opera House be of interest to today's people? "It's rare to be able to experience a venue with deep cultural heritage in an untouched photographic paradise like Eureka," stated Andy Rossman, executive director of Eureka Opera House. "The air is clean, the summits are high and our expansive dark night skies are forever memorable," she continued. The venue creates an intimate interactive setting for reunions, weddings, meetings and more.
When the Eureka Opera House first opened its doors for a New Year's Eve Costume Ball in 1880, the people of the mining town didn't know this was the start of a legacy and one that would continue to enrich the lives of people for decades to come.
Currently on display are historic elements such as the original projectors from the early days of the silent movies, the first 'talkies' projector, and a carbon-arc spotlight. The 1924 Oleo curtain still hangs at the front of the stage. Historic graffiti has been preserved back stage from the early days and the tradition continues with signatures of the people who have performed at the Eureka Opera House since it was reopened.
While the Eureka Opera House is more than 120 years old, its facilities for meetings are filled with modern conveniences. The historic elegance of the Eureka Opera House, including chandelier, curtain, wood floors and horseshoe balcony, has been preserved, and the Grand Hall Auditorium can accommodate 275 people theater style or 150 people seated at banquet tables. The balcony -- one of only two horseshoe shaped balconies in Nevada -- offers permanent seating for 64 people. The auditorium and balcony provide excellent viewing of the full performance stage, making the Grand Hall ideal for banquets, conventions, theatre, music and additional events.
The meeting rooms accommodate 50 people seated theatre style or at banquet tables for formal or casual meetings, family reunions, banquets or seminars. Also, the meeting rooms serve as the fine arts gallery for the Opera House's permanent fine arts collection.
Eureka is one of six friendly communities along Hwy 50, America's Loneliest Road, in Nevada's Pony Express Territory. The Territory is where the Pony Express riders once galloped along its main trail, now Highway 50, connecting the six adventurous towns of Dayton, Fallon, Fernley, Austin, Eureka and Ely. Twenty years ago Life Magazine designated this section of Nevada State Highway 50 – "America's Loneliest Road" as it winds itself thru the 1,840 miles of land called the Pony Express Territory.
In 1990, Eureka County began a three-year restoration, and it was reopened on October 5, 1993. In 1994, the Eureka Opera House received the National Preservation Honor Award and today the legacy continues as it attracts community gatherings and is a full service convention and Cultural Arts Center.
"Since the doors reopened, we have attracted high-quality talent to perform here because of this venue's uniqueness," said Rossman. To rent the Eureka Opera House and for recommendations on Eureka's dining spots, walking tours and lodging, please visit http://www.co.eureka.nv.us/opera/opera01.htm.
The Pony Express Territory welcomes the media to its new online pressroom http://ponyexpressnevada.com/pony-express-media-room.html with exclusive high res photography and fresh story ideas. We're available to help you tour, customize your story, and more.
###