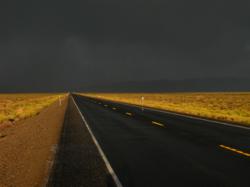 "Each stop along the way brought us closer to nature, history and each other. Our family had a sense of adventure and accomplishment"
Pony Express Territory, Nevada (PRWEB) July 13, 2011
Travelers can meander through the 1,840 miles along Nevada's U.S. Hwy 50, the loneliest road in America in the adventurous Pony Express Territory where they are welcomed by 17 million acres of wide open space, 150 years of rich history, rugged undisturbed nature, black night skies and six historically-rich action-packed towns. Nevada's Territory is where Pony Express riders once galloped along its main trail, now Highway 50, connecting Dayton, Fallon, Fernley, Austin, Eureka, and Ely near Great Basin National Park.
More than twenty years ago when Life Magazine designated this section of Nevada State Highway 50 – America's Loneliest Road, travelers began to discover the Pony Express Territory charm, history, adventure and cultural heritage. Hwy 50 winds itself thru the 1,840 miles of land as it parallels the historic Pony Express Route that 150 years ago covered 2,000 miles of wilderness between Sacramento, California and St. Joseph, Missouri. And now, explorers can engage with Nevada's Pony Express here Follow us on facebook
The Pony Express was a fast mail service crossing the Great Plains, the Rocky Mountains and the High Sierras from St. Joseph, Missouri to Sacramento, California from April 3, 1860 to October 1861. The route became the west's most direct means of east-west communication before the telegraph. This mail service was vital to tying the Union with California prior to the American Civil War.
"We know from the Travel Industry Association that the learning aspect of travel continues to be important to U.S. travelers with 30.2 million people taking an educational trip in the past three years," said Rick Gray, president of the Pony Express Territory. "That's one reason why we want people to explore our area. Although twenty-five years ago, Life Magazine coined the name 'America's Loneliest Road', you'll find that the area is full of adventure, mystical vistas and quirky towns."
Stephen King wrote one of his most popular novels after traveling Highway 50 – "America's Loneliest Road". Desperation was a result of a cross-country drive in 1991, during which he visited the small desert community of Ruth, Nevada, near U.S. 50. In 1994, astride his motorcycle, King took another cross-country trip to learn more about Chinese laborers who had been trapped inside a collapsed mine near Hwy 50, NV. Rather than risking the loss of would-be rescuers, the Chinese men were abandoned to their fate. This anecdote was the germ of King's plot for the novel.
The area officially designated as "Pony Express Territory" encompasses six main towns − Dayton, Fallon, Fernley, Austin, Eureka, and Ely. The route that links these six towns is Hwy 50 and it has become known as one big 17 million acre museum. The "museum" greets visitors with natural wonders, historic buildings, unusual festivals and a plethora of art.
With approximately two-hours of driving distance between each town (see info. in side bar on the route), there are plenty of opportunities to take a short hike to an ancient petroglyph site, stop along a lake or stream to fly fish and take in some local cuisine and boutique shopping. ATV, mountain bike and hiking trails are prevalent throughout the area along with plenty of camping and picnicking spots. In addition to off road adventures, there are ghost towns, historical cemeteries and walking tours in each community.
"It's not often these days a family can disconnect from technology and head out on an adventure together across vast beautiful country engaging in cultural heritage and education," stated Robbin Rettig, mother of three children in California. "Each stop along the way brought us closer to nature, history and each other. We had a sense of accomplishment," she continued.
Visit the Media Room for high res photos and insider info.
ABOUT THE PONY EXPRESS TERRITORY
Nevada's Pony Express Territory sits on 17 million acres of wide open space with 150 years of rich history, rugged undisturbed nature and black night skies. The Territory is where the Pony Express riders once galloped along its main trail, now Highway 50, connecting the six adventurous towns of Dayton, Fallon, Fernley, Austin, Eureka and Ely. Twenty years ago Life Magazine designated this section of Nevada State Highway 50 – "America's Loneliest Road" as it winds itself thru the 1,840 miles of land called the Pony Express Territory. For more information, visit http://www.ponyexpressnevada.com or call 1-888-359-9449.. Follow us on Facebook:http://www.facebook.com/pages/Pony-Express-Nevada/115945638472057
###