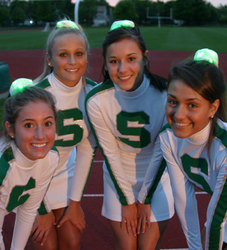 Columbus, OH (PRWEB) November 22, 2010
Fun to wear, easy to order and delivered right to your home! Introducing Ponytails Lights© - the hair accessory that brightly blinks in your favorite colors. Each Ponytail Light has an on/off switch and batteries last 50 – 60 hours.
They are the perfect holiday gift for your favorite cheerleader. Coaches can show their appreciation by outfitting the entire squad with Ponytail Lights.
Ponytail Lights aren't just for cheerleaders. They are the perfect accessories to any slumber party, goodie bag or school spirit event. Ponytail Lights are a great tool for nighttime safety. Use them as a collar for your dog on evening walks and wear them around your wrist to help stay in sight for trick-or-treating or nighttime sports.
Ponytail Lights are $8.99 each or two for $14.99. They are available in blue, green, red, purple or red/white/blue. They are on sale now at http://www.ponytaillights.com. Fundraising and special orders are also available. You may contact Ponytail Lights through their website.
Ponytail Lights is proud to support four national charities this holiday season. You may make a donation of $1 to one of the following charities, ASPCA, The Wounded Warrior Project, The Stephanie Spielman Breast Cancer Fund or the Marine Fund Toys for Tots.
Don't miss the opportunity to be a trendsetter….be the first to sport a Ponytail Light!
Contact:
Andrew Dutcher
Taillights, LLC
614-937-4444
# # #