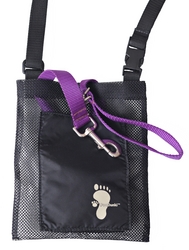 "Customers all over the country write me and tell me how much they love PooDunki. I want every dog owner to have the PooDunki simply because it makes life easier."
Muskegon, MI (PRWEB) March 24, 2010
JR Design, a Michigan based company, announced a revolutionary pet waste and accessories carrying bag. The new "PooDunki", constructed of durable nylon mesh, is like a doggie diaper bag for dog walkers everywhere. The versatile dog walker's solution can be worn like a hand bag or a fanny pack and can easily be adjusted using the quick-connect buckle.
"I got tired of carrying around dog waste in a plastic bag every time I walked my dog", says Jan Rohrs, the President of JR Design and Inventor of PooDunki. "The challenge with developing a product that carries dog waste and pet products is four-fold. It needed to be vented, it had to be durable, it needed to comply with park and municipality scoop laws and of course it had to be stylish. We have accomplished these objectives with PooDunki."
The PooDunki has two 5" x 7" pockets to store dog treats, empty waste bags, grooming materials, car keys, iPods or anything else you want to take when you walk your dog.
Rohrs is the daughter of the late Robert Miller, an inventor who started R.A. Miller Industries in Grand Haven, Michigan. She says inventing is in her blood. "I wish my father was still around to see what his daughter invented."
Growing up in West Michigan, Rohrs' commitment to keeping business in Michigan is evident.
"I could have made the PooDunki cheaper overseas, but I wanted to keep the business here in Michigan and in the U.S.", said Rohrs. "We need to help each other, especially now, here in Michigan."
The bags are constructed in Holland, Michigan and silkscreened in Spring Lake, Michigan. Rohrs wanted to design a high quality product at an affordable price. "The list price is $19.95, but we are introducing PooDunki to the market for only $17.95. It is customer friendly and is a very good value. Our customers are truly getting their money's worth with the PooDunki" according to Rohrs.
"We are very excited about launching our new web site, PooDunki.com ", Rohrs says. "We made it as easy as possible for customers to view the PooDunki and purchase it online."
PooDunki.com not only describes the product, but also provides information about curb laws to help customers avoid costly fines.
According to Rohrs, the future looks bright for PooDunki.
"I have several companies interested in helping merchandise and market PooDunki", Rohrs says. "Customers all over the country write me and tell me how much they love PooDunki. I want every dog owner to have the PooDunki simply because it makes life easier."
PooDunki is a stylish option for temporary waste bag storage that is sanitary, ethical and socially responsible for pet owners.
###