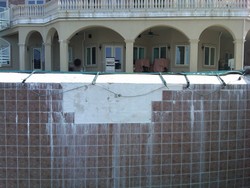 One New Jersey luxury swimming pool builder is finding botched swimming pool projects all over Bergen County, New Jersey at an alarming rate.
Ramsey, NJ (PRWEB) April 19, 2011
As the 2011 swimming pool construction season ramps up in New Jersey, the luxury pool market has seen a rising number of failing pools, a huge concern for consumers and pool owners across the state. Why have luxury swimming pool failures become so common in New Jersey? The most logical explanation seems to be that luxury pools are being built by swimming pool or landscape companies who extend their efforts beyond their experience and capabilities. In other words, some New Jersey pool and landscape designers and contractors have gotten in over their heads. Why the recent development? The struggling economy has nearly eliminated the low and mid-market pool industry. In response to this, swimming pool companies have begun to take on projects they can't handle, landscape architects and designers are beginning to manage more swimming pool construction without any building experience, and some swimming pool contractors are simply misrepresenting themselves to their clients in order to get ahead. It's a scary world out there for consumers and swimming pool owners who never know when their pool is going to fall apart. Is this a growing trend? One New Jersey luxury pool builder is finding botched pool projects all over Bergen County, New Jersey at an alarming rate.
Chris Cipriano, President and Owner of Cipriano Custom Swimming Pools and Landscaping, was recently contacted about a vanishing edge swimming pool in Mahwah, NJ. Chris took a look at the pool's infinity edge which was due to have a simple tile repair. Upon first look, Cipriano found the infinity wall in terrible condition. He was then asked to do some forensic work on the luxury pool's failure. The pool's weir wall was cracked in several places, tile had severe calcium deposits and nearly twenty percent had fallen off, and the costly pool plaster was basically ruined after just four years. Samples were taken that illuminated the primary cause of the pool's failure. Unfortunately, a popular pool contractor with years of experience did not follow proper construction practices by failing to discard gunite rebound from the pool walls, including the ultrasensitive weir wall. Gunite rebound is the excess gunite that bounces off the walls during application. If it is not removed, it creates weak, nonstructural masses within the pool shell. This is even more dangerous in weir walls, which lack the support of any surrounding soil. In this case, substandard construction, which may have gone unnoticed for a considerable period of time in a standard swimming pool, was quickly exposed by the level of difficulty presented by this vanishing edge pool. The well-known NJ pool company took on construction of this $150,000 luxury pool assuming their skill and experience would work just as well in the high-end market. This wasn't the case. The pool owner is now left with high-end repairs, and the pool builder is no longer returning phone calls.
In January, Cipriano was hired to complete a commercial swimming pool project abandoned by a North Jersey pool builder at the new Marriott Hotel in Mahwah, NJ. This pool and spa failed to adhere to health department codes and engineering specifications. If the pool had been completed in the direction it was headed, it would have been condemned just as the spa already had been for serious safety violations. The contractor went bankrupt during construction in lieu of having to rip out all the equipment, demolish the spa, and start over. This was the second swimming pool on record that was abandoned by this contractor. Another job in Haworth, NJ proved to be defunct last season after the contractor undersized the swimming pool by 200 square feet and failed to meet safety standards. Those homeowners were also forced to demolish the pool and start over.
How did these swimming pool projects fall into the wrong hands? Misrepresentation of experience and presumably a very low bid. Swimming pool contractors who are nearing bankruptcy are notorious for bidding extremely low on projects; they will do anything to be awarded the job and keep their head above water. This philosophy can also trickle down to construction as corners are cut to save on expenses in an attempt to try and recoup some profit. In this case, it would have been difficult to see that the pool builder was so inexperienced. In order to create an aura of expertise, this pool company posted pictures of other companies' work on their website, and even mirrored another company's picture for a full-page print advertisement in 201 Magazine. Misrepresentation of experience and a nothing-to-lose mentality left the swimming pool owners with nothing more than huge headaches and huge replacement expenses.
With pool failures occurring all over Northern New Jersey, another dangerous development has presented itself in the past few months. The struggling economy that has forced pool companies to try and hack it in the high-end market has begun to see landscape companies enter the pool business. Landscape contractors, who have been planting around swimming pools for years, are now using those pictures in "swimming pool" portfolios and claiming the pools as their own. Some are quite clever and not as blatant; these companies are aggressively marketing swimming pool design services on their websites, showing pool layouts they have designed over the years. They aren't offering the consumer construction services until behind closed doors because, if they advertised pool construction on their website, the actual pool builders would be banging down their doors crying foul play! Their "construction portfolios" would be empty because they didn't build any pools.
Another growing concern is that some New Jersey Landscape Architects who may have the ability to design swimming pool layouts are now offering to manage pool construction. They are selling the services on the premise of reducing cost by competitively bidding out the projects and then managing them; however, given the required hands-on experience lacking in the previous two pools mentioned, this scenario is extremely disconcerting. Those pool builders who are stretched beyond their capabilities will now be managed by landscape architects with little knowledge of best management practices in complicated pool construction. Despite the architects' ability to design pools, they lack the in-depth knowledge of working details required to build or manage the construction of a safe, fully-functional and long-lasting luxury swimming pool.
To learn more about Cipriano's findings and how to avoid such problems with your own luxury swimming pool, visit their blog on http://www.plantnj.com.
About Cipriano Custom Swimming Pools And Landscaping:
Celebrating over 22 years in business, international award winner Cipriano Custom Swimming Pools & Landscaping is a recognized industry leader in the design and construction of custom residential landscapes, masonry and swimming pools. After a little more than a decade in business, the company catapulted to the top of the state's luxury landscaping and pool industries when it was awarded a $2.5 million residential landscape project. Today, along with the Ramsey, NJ office, the Cipriano family owns a 10-acre farm and nursery in Mahwah, NJ, where large caliper specimen trees and other rare plants are grown. With a design office headed by Certified Landscape Architect William Moore, the Cipriano team won the Northeast Pool & Spa Association's 2007 Bestin Competition swimming pool award and in 2009 a Gold medal at Association of Pool & Spa Professional's International Awards of Excellence. Also in 2009, the Cipriano team earned the Certified Building Professional (CBP) credential from the APSP, one of only five custom pool builders in Bergen County to have earned the certification.
###