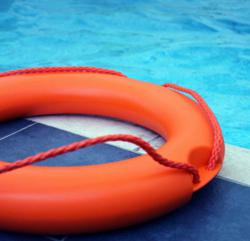 Your child may be a very good swimmer and may be very responsible, but accidents involving swimming pools can happen in a split second
Neputne, NJ (PRWEB) June 17, 2011
Most people are unaware that unintentional drowning is one of the main causes of injury and death in children. According to the Center for Disease Control & Prevention (CDC), each day in the United States, an estimated ten people die from unintentional drowning. Of these ten, two are children aged 14 or younger. It is the second leading cause of death for children ages 1 to 14 years of age.
"Parents should always be alert when their children have access to a swimming pool" said Donald Colarusso, President of All Hands Fire Equipment, a firefighter and supplier of fire boots & firefighter equipment for over 24 years. "Your child may be a very good swimmer and may be very responsible, but accidents involving swimming pools can happen in a split second."
Here are some tips to help keep children and adults safe this summer:
1. Always supervise children while they are in and around a swimming pool. Never let them swim alone.
2. If a child does not know how to swim, they should not be allowed them into a pool alone. Child flotation equipment should be used and children must always supervised when around water. Having children attend certified swimming lessons is also highly recommended.
3. It's important to be aware of a child's physical condition. Children should not be allowed to swim if they are fatigued, cramping or not feeling well.
4. Children should be instructed to always use a "buddy system", whether they are home or swimming at another location – friend's house, summer camp, etc.
5. Running around the pool area should be prohibited to avoid fall injuries on the wet concrete. Avoiding "horse-play" on diving boards, slides and other areas at height will also help to curb the occurrence of fall injury.
6. Maintaining a pool's chemical balance and properly storing chemicals away from children is of great importance.
7. One should ensure that a swimming pool is enclosed with a fence that can be locked to keep children out when unsupervised.
8. For added safety, keeping an extra life-saving flotation devices nearby and visible is a good practice.
9. Always having a phone accessible in case of emergency can be a life saver.
10. Parents should not consume alcohol while supervising children in a pool.
Having a pool is a huge responsibility. Children will be considerably less apt to getting hurt when their supervisors are prepared and alert. For more information regarding safety equipment and flotation jackets please visit http://www.AllHandsFire.com , one of the nation's leading suppliers of fire rescue equipment, fire gloves and public safety gear.
# # #