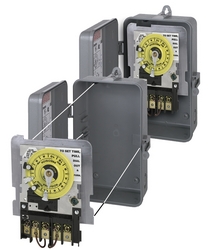 Midland Park, NJ (PRWEB) April 19, 2011
Most in-ground pools require a 24hr pool timer for automatic on/off control of the pool pump functions on a timed basis. After several seasons the pool timer usually needs to be replaced but not the pool timer box. On Swimmingpooltimeswitch.com there is a complete line interchangeable pool timers that fit directly into existing Intermatic or Paragon timer enclosures, no tools or hardware required.
The company behind swimmingpooltimeswitch.com has been manufacturing and supplying pool professionals with hi quality pool timers for over 35 years. These same timers are now available to the public at a factory direct price of $39ea.
Important Clarification - Precision Multiple Controls, Inc. does NOT manufacture or sell Intermatic® or Paragon® timers. Precision manufactures and sells their own timers with brackets that allow them to fit directly into an Intermatic® and Paragon® time switch enclosure. Intermatic® is the registered trademark of Intermatic Corporation - Spring Grove, IL USA.
® Paragon is the registered trademark of Paragon Corporation.
For more information, go to http://www.swimmingpooltimeswitch.com or call customer service M-F 9AM to 5PM EST.
Precision Multiple Controls, Inc.
Midland Park, NJ 07432
Tel: 201-444-0600 / 1-800-775-5862
# # #