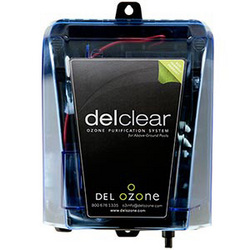 DEL Clear offers non-chemical pool water purification for above ground pools.
San Luis Obispo, California (PRWEB) May 21, 2010
DEL Ozone announces the launch of its newest pool water purification system, DEL Clear, for above ground pools. The product is now being sold at Costco.com to meet an increasing demand among pool owners for non-chemical pool water purification solutions.
DEL Clear uses the advanced ozone sanitation technology of DEL Ozone, in an affordable and easy to install automatic system made especially for above ground pools. The unit turns pure oxygen into a powerful and natural sanitizer that is 200 times more powerful than chlorine, allowing pool owners to maintain crystal clear water with up to 90% less chlorine.
Better known for its role in maintaining water quality hot tubs, commercial pools, and Olympic aquatics facilities, ozone technology is also available in an affordable compact system for above ground pools. Ozone is a safe and natural way to rid water of a very wide range of contaminants, including waterborne bacteria like cryptosporidium, with almost no byproducts. Owners will be able to maintain clear, healthy pool water much more easily, with a 60 to 90% reduction in chemicals (chlorine) needed.
The technology behind DEL Clear uses a durable and innovative corona discharge (CD) ozone generator based on a corrosion-resistant electrode. This method eliminates the need for additional air-drying equipment while creating the highest amount of ozone generated per unit of energy used. These systems operate automatically whenever the pool pump is running to purify pool water as it is recirculated back into the pool. When used in conjunction with a small amount of chlorine, ozone is highly effective in maintaining purified pool water with a minimum of expertise required by the pool owner.
DEL Clear can be installed with new or existing above ground pools. Installation is technically simple enough for many pool owners or it can be quickly installed by a pool technician. The complete installation kit is included in the purchase of a unit at http://www.Costco.com.
For more information visit http://www.delozone.com or contact DEL Ozone at o3info(at)delozone(dot)com.
# # #