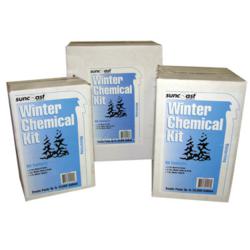 In some parts of the country, customers will be using winter pool supplies until April, so this is a great sale
Clearwater, FL (Vocus/PRWEB) February 16, 2011
Discount pool supplies superstore PoolGear Plus is holding a winter sale to prepare for the impending spring pool opening season. The winter sale will be on pool supplies such as winter chemical kits, winter covers and safety covers for inground and above ground pools, Hayward natural gas pool heaters, and several other top-selling products in the most popular sizes. To see pool supplies included in the winter sale, customers will visit the PoolGear Plus website and click in the "Hot Deals" section. Shipping is free with just an $8.99 handling fee per order.
"We carry a full line of products for spring pool opening season," says Rachaelle Lynn, Online Marketing Manager. "The winter sale helps us make room for them – and saves customers money in the process."
Pool supplies on sale include winter chemical kits at 20% off, above ground winter covers at 10% off with free Gator clips, solid safety covers for inground pools at 10% off, and Hayward natural gas heaters for 20% off. "In some parts of the country, customers will be using winter pool supplies until April, so this is a great sale for them" says Ms. Lynn. "And customers in parts of the country that warm up early can stock up for next fall."
Winter chemical kits include a full-strength non-chlorine oxidizing shock to eliminate organic contaminants, a winter algaecide to prevent algae growth throughout the winter, and a metal sequestrant to prevent rust, scale and corrosion from occurring while the pool is closed. Winter kits come in three sizes to accommodate pools of varying water volumes.
Winter pool covers offer protection from the elements, including pool chemicals, sunlight, and, of course, the cold. Mesh winter covers, also on sale, allow rain and melted snow to trickle through closely-woven mesh material while keeping dirt and debris on top of the cover. Safety covers not only protect pools from harsh winter conditions, but are designed to prevent unauthorized access and accidental drowning. Safety covers are more attractive than conventional winter covers and can withstand a substantial amount of weight.
Customers will also find substantial savings on the Hayward natural gas heater that is part of the sale. Natural gas heaters are a quick and efficient method of heating swimming pools and provide a way for residential pool owners to extend their swimming seasons.
About PoolGear Plus: PoolGear Plus offers discount pool supplies online and strives to provide the utmost in value, quality, and service to their customers. The fastest-growing catalog and online company in the US, PoolGear Plus offers free shipping with just an $8.99 handling fee on all purchases.
###