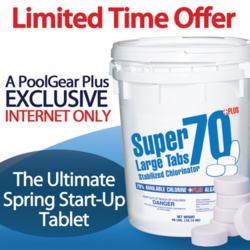 The line of new pool supplies at PoolGear Plus is designed to help customers make pool maintenance more affordable and eco-friendly while enhancing the backyard living experience.
Clearwater, FL (Vocus/PRWEB) March 09, 2011
Online pool supplies company PoolGear Plus announces the expansion of its line of pool and spa supplies in several categories, including pool chemicals, automatic pool cleaners, pool controls, pool liners, and spa furniture. The line of new pool supplies is designed to help customers make pool maintenance more affordable and eco-friendly while enhancing the backyard living experience. The company is also introducing a Best Price Guarantee to ensure that its customers always get the best value on pool supplies and equipment.
PoolGear Plus is expanding its line of pool chemicals with several new products designed to make pool maintenance easier and more economical for pool owners. Their Super 70 Plus Chlorine Tablets, available online only and only for a limited time, are designed for spring start-up because they are slow-dissolving in lower-temperature pool water. "Priced at $1.99 per pound with the purchase of 40 pounds, these three-inch chlorine tablets are an affordable and effective sanitizing option for pool owners in temperate climates," says Rachaelle Lynn, Pool Care Expert at PoolGear Plus.
In addition to other pool supplies and equipment, PoolGear Plus offers a full range of automatic pool cleaners for above ground and inground pools. The company is increasing its offerings still further this swimming pool season with several new pool cleaners from top brand names. Newer-model pool cleaners are typically more energy-efficient, saving pool owners money and helping them make their pools more eco-friendly. For example, the Nitro Wall Scrubber Inground Robotic Pool Cleaner by SmartPool® uses very little power – 70% less energy than other pool cleaners – and also reduces pool chemical consumption and increases water conservation by reducing the need to backwash the pool filter.
Another way for pool owners to make their swimming pools more eco-friendly is with a pool automation system, a new category PoolGear Plus is adding to its pool supplies offerings. The company now carries the Hayward OnCommand™ Pool Control Automation System, which allows pool owners to save up to 75% on pool energy costs by automating basic pool and spa functions. In addition, the OnCommand™ allows automation of other backyard functions, including pool and landscape lighting, water features, spa jets and blowers, and even stereo systems for a completely relaxing outdoor living experience.
PoolGear Plus is committed not only to being a one-stop shop for pool supplies and equipment, but to helping customers create their very own backyard sanctuaries. To this end, the company has added a line of outdoor furniture. The durable, weather-resistant outdoor furniture offers convenient, comfortable seating for backyard entertaining; benches, picnic tables, counters, and barstools feature snap-together construction and contemporary style in a range of attractive colors to complement any décor.
For pool owners who are considering a new look for their inground pools, PoolGear Plus is introducing several new lines of inground pool liners in a wide range of designs. Pool liners are custom-made to the customer's exact pool measurements for a brand new look that provides protection for their swimming pool investment. PoolGear Plus is also offering low introductory prices on many pool liners; customers can purchase selected 28 gauge pool liners at 20 gauge prices.
PoolGear Plus has also introduced a Best Price Guarantee this swimming pool season. If a customer sees an item they intend to buy listed for sale for a lower price on another pool supply company's website, PoolGear Plus will match the price (or refund the difference for a purchase made within the previous 30 days). In addition, if PoolGear Plus lowers its own price on the same item within 30 days of a purchase from PoolGear Plus, the company will refund the difference between the old and new prices upon the customer's request. "We encourage our customers to compare the total price of their purchase at PoolGear Plus with the total price they'll pay at a competitor's," says Ms. Lynn. "In many cases, a lower item price doesn't translate to savings once all applicable fees have been added. With free shipping and just an $8.99 handling fee no matter how much the customer orders, PoolGear Plus is well-positioned in today's competitive pool supplies marketplace."
About PoolGear Plus: PoolGear Plus offers discount pool supplies online and strives to provide the utmost in value, quality, and service to their customers. The fastest-growing catalog and online company in the US, PoolGear Plus offers free shipping with just an $8.99 handling fee on all purchases.
# # #