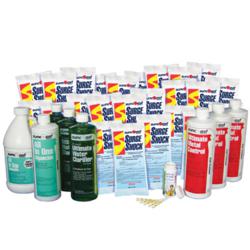 Through its Pool Saver Plus program, PoolGear Plus is offering a 10% discount on the purchase of pool kits and chlorine
Clearwater, FL (Vocus/PRWEB) April 06, 2011
PoolGear Plus has a special offer for residential swimming pool owners who are preparing to open their pools as spring arrives and temperatures increase. The company offers pool kits and chlorine as well as all other types of pool supplies at http://www.poolgear.com/ and has put together a money-saving spring special for pool owners through its Pool Saver Plus program. Customers who buy 15, 25, or 50 pounds of chlorine tablets with their 10,000, 20,000, or 30,000 gallon pool kits will save money on pool supplies they'll need all season long.
Through its Pool Saver Plus program, PoolGear Plus offers a 10% discount on the purchase of pool kits and pool chlorine combinations. For example, customers who purchase a 30,000 gallon spring start-up pool kit plus a 50-pound bucket of chlorine will pay just $157.48 instead of the regular price of $174.98. The spring start-up pool kit includes a metal control product, super pool shock, algaecide concentrate, pool water clarifier, and AquaChek pool water test strips. The Suncoast Premium 3" chlorine tablets that come with this special offer are full-strength chlorine tablets that are designed to maintain the proper free available chlorine levels that keep swimming pools healthiest.
Seasonal Value pool kits from PoolGear Plus offer more products to pool owners who want to save money by buying larger quantities of pool supplies for the season. Customers can save even more by adding chlorine tablets to their purchase of a seasonal value pool kit, sold by the pool's gallon size. A 10,000 gallon seasonal value pool kit plus 25 pounds of large chlorine tablets is just $125.98 instead of the regular price of $139.98. As with the spring start-up pool kits, this offer features Suncoast Premium 3" Chlorine Tablets, which are packaged in child-resistant but senior-friendly Life Latch® buckets.
Customers who are looking for premium pool supplies for their swimming pools will appreciate the Premium Value pool kit, which includes upgraded pool chemicals and can be purchased with Suncoast Complete Multi-Purpose 3" Chlorine Tablets for special offer pricing. This pool kit includes a metal control product that removes and prevents copper stains as well as other stains, minerals, and scale; surge pool shock, which combines the benefits of an oxidizing non-chlorine pool shock with those of chlorine; all-in-one algaecide, a non-metallic, non-corrosive, non-foaming algaecide that kills and prevents all types of algae as well as pink bacteria; a water clarifier that improves pool filter efficiency in addition to clearing cloudy pool water; and AquaChek water test strips. Suncoast Complete 4-in-1 Multi-Purpose 3" Chlorine Tablets, all-in-one pool chlorine tablets that are individually-wrapped and perfect for automatic chlorine feeders, provide chlorination, a water clarifier, a stain inhibitor, an algae control, and a descaler.
The goal of the Pool Saver Plus program at PoolGear Plus is to offer swimming pool owners the best value for their money when it comes to pool supplies. PoolGear Plus is pleased to participate in the start of pool season with special offers on pool kits and chlorine.
About PoolGear Plus
PoolGear Plus offers discount pool supplies and pool equipment including chlorine, pool kits, pool shock, algaecides, water clarifiers, and other pool chemicals; inground and above ground automatic pool cleaners; above ground and inground pool filters and pool pumps; above ground swimming pools; patio and backyard accessories; and spa / hot tub supplies via website and catalog. PoolGear Plus also maintains a blog called Pool Care Tips that offers pool owners up-to-date information about how to maintain their swimming pools.
# # #