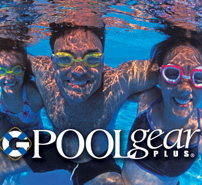 PoolGear Plus holds its biggest sale of the year at the beginning of each swimming pool season
Clearwater, FL (Vocus/PRWEB) April 14, 2011
PoolGear Plus®, the one-stop shop for discount pool supplies, is having its biggest sale of the year April 14-17, 2011. For four days, customers can take advantage of special pricing, discounts, and rebates by clicking the "Start Saving Now" link on the company's home page. PoolGear Plus holds its biggest sale of the year at the beginning of each swimming pool season so pool owners have the opportunity to stock up on pool supplies for the season and upgrade to new pool equipment when they open their pools.
"Our customers eagerly anticipate the start of each swimming pool season," says Rachaelle Lynn, a PoolGear Plus Pool Care Expert. "We help them get off to a great start with terrific values on pool supplies so they can look forward to a summer of stress-free pool maintenance."
As part of the four-day sale, PoolGear Plus has lowered the price of full-strength 3" pool chlorine tablets to just $1.99 per pound with the purchase of 40 pounds, is offering a Buy-Six-Get-One-Free deal on four types of pool shock, and is having Buy-One-Get-One-Free specials on several other products from the Suncoast® brand of pool chemicals. Salt pool owners will appreciate the 10% discount PoolGear Plus is offering on select pool chemicals from the Salinity line, which is specially formulated for salt pool systems.
Pool owners can save on more than chemicals at the biggest sale of the year at PoolGear Plus; there are price reductions and/or rebates available on select above ground and inground automatic pool cleaners, and select pool equipment is on sale for 10% off regular prices. For example, a Hayward® Inground 24" Pro™ Series Sand Filter System with a one-horsepower Super Pump® is just $791.99 instead of the regular price of $879.99. However, customers will have to act quickly as this price reduction lasts only for the four days of this sale.
Swimming pool maintenance is less of a chore with the right tools, and PoolGear Plus has pool owners covered with a discount of 15% off select maintenance equipment. Pool maintenance equipment included in the biggest sale of the year includes leaf rakes, skimmer nets, wall brushes, pool vacuums, and floating chlorine dispensers. For pool owners interested in a new look for their pools and decks, PoolGear Plus is offering 10% off all Smart Seal pool / deck paints and primers.
Once pool care chores are complete, pool owners can relax and enjoy their swimming pools on a TRC Recreation Softie folding pool chair or on a Smart Float®, both discounted 15% in the four-day sale along with other select pool floats. "Backyard swimming pools are so rewarding," says Ms. Lynn. "We included pool floats and pool toys in the sale because we want to help our customers unwind and have fun in the pool with family and friends."
# # #