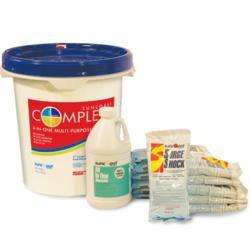 Customers visit PoolGear Plus, find the pool supplies they need, and save money with no extra effort on their part
Clearwater, FL (PRWEB) May 10, 2011
PoolGear Plus, which offers discount pool supplies online, has expanded their immensely popular Pool Saver Plus customer rewards program to include ABC Pool Care Kits, new pool chemical packages designed for use with the ABCs of Pool Maintenance that feature a lower price than when those items are purchased separately. The ABCs of Pool Maintenance offers PoolGear Plus customers a simple pool care routine designed to keep swimming pools sanitary and algae-free while minimizing time spent on pool maintenance-related chores.
"The ABCs of Pool Maintenance is a lifeline for those looking for a time-saving, uncomplicated pool care routine," says Rachaelle Lynn, a PoolGear Plus Pool Care Expert. "It's an easy three-step process for a beautiful swimming pool that fits neatly into pool owners' calendars, and our new Pool Care Kits make it even easier to follow – and save money."
ABC Pool Care Kits come in four varieties; all include chlorine tablets, pool shock, and algaecide. The Basic Pool Care Kit is perfect for budget-conscious pool owners. "Pool Saver Plus was developed with those customers in mind," says Ms. Lynn. "The Basic Pool Care Kit reflects our commitment to making economical, quality pool supplies available to all of our current and future customers."
Deluxe and Premium Pool Care Kits are attractive to customers who prefer to save on upgraded pool chemicals. Deluxe Pool Care Kits come in Concrete or Vinyl versions; the Vinyl version includes a pool shock that is specially made so it won't fade vinyl pool liners. Premium Pool Care Kits include best-selling pool products from PoolGear Plus: Suncoast® Complete® Multi-Purpose 4-in-1 3" Chlorine Tablets, Surge Pool Shock, and All-In-One Algaecide.
The pool chemicals in Premium Pool Care Kits are multi-purpose. "Complete chlorine tabs are a sanitizer, clarifier, stain and algae preventer and descaler," says Ms. Lynn. "Surge Shock combines an oxidizer with a chlorine shock, and All-In-One kills and prevents all types of algae as well as pink bacteria and contains a water clarifier. Our customers enjoy terrific savings on these top-quality bestsellers by purchasing them in Pool Care Kits."
Plans to expand Pool Saver Plus even further are underway, but in the spirit of the ABCs of Pool Maintenance, which emphasizes ease and convenience, its simplicity won't change. "So many customer incentive programs require consumers to jump through hoops to save, but we're not going to put pool owners through that," says Ms. Lynn. "With Pool Saver Plus, customers find the pool supplies they need and save money with no extra effort on their part. There are no coupon codes to search for, no membership numbers to type in, and no sales to plan for because the savings are already there and available year-round. Pool Saver Plus really is a customer rewards program in the very best sense of that term."
About PoolGear Plus
PoolGear Plus is the fastest-growing internet and catalog company in the US. With low prices on pool supplies and equipment, free shipping, and just an $8.99 handling charge per order, the company has positioned itself as a top industry competitor. The mission of PoolGear Plus, providing top-quality pool chemicals and other pool supplies at the very best prices, is reflected in the Pool Saver Plus program as well as many other quality and low-price initiatives.
###