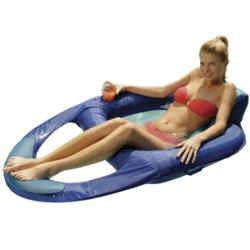 We've got the whole family covered in terms of having fun in the pool
Clearwater, FL (PRWEB) May 19, 2011
Pool supplies company PoolGear Plus has announced the start of their Memorial Day Sale on May 19, 2011. Beginning at midnight, pool owners will have the opportunity to save on pool chemicals like chlorine, pool shock, and algaecide; pool cleaners and maintenance equipment like brushes, skimmers, and chlorinators; pool floats, toys, games, and swim gear; and solar blankets, among many other pool products. Those who aren't pool owners can save on above ground pool packages that have been discounted 10% just in time for summer.
"For most of our customers, opening the swimming pool over Memorial Day weekend is an exciting ritual that marks the true start of summer," says Rachaelle Lynn, a PoolGear Plus Pool Care Expert. "We're starting the sale early to help them take advantage of huge savings on all the pool supplies they need in plenty of time for a Memorial Day opening."
As part of the sale, PoolGear Plus is featuring their lowest price of the year on one of their top-selling products, Suncoast® Value Chlor® 3" chlorine tablets. At $79.99 for the 40-lb. Value Chlor, the price per pound is just $1.99. Pool owners who prefer multi-purpose chlorine tablets can save money on another bestselling item, Suncoast® Complete® Multi-Purpose 4-in-1 3" chlorine tablets. Customers will save $20 on the 40-lb. pail of Complete chlorine tablets, which contain a proprietary blend of ingredients that reduce the amount of pool chemicals needed to keep a pool in top-notch condition.
Another pool supply staple, algaecide, is also discounted during the Memorial Day Sale, along with other pool chemicals. Suncoast® All In One Algaecide, PoolGear Plus' most popular algaecide, is on sale for 10% off the regular price. Other pool chemicals with a 10% discount include 25-lb. containers of Suncoast® pH Plus, Total Alkalinity Increaser, and Calcium Hardness Increaser, as well as quart sizes of Suncoast® Ultimate Water Clarifier and Filter Renew, a pool filter cleaner that greatly improves filter life and efficiency.
Since Memorial Day weekend is a popular time for pool parties, PoolGear Plus is offering a 15% discount on select pool toys, floats, lounges, and swim gear as part of the Memorial Day Sale. "We're so pleased with the variety of fun pool products we included in this sale," says Ms. Lynn. "From the puddle jumper baby seat to the combination basketball/volleyball pool set for older kids and adults, we've got the whole family covered in terms of having fun in the pool." Other sale items include floating chairs, floatation swimsuits for toddlers and preschoolers, jumbo water guns, and mask / snorkel sets.
Pool maintenance is a necessary part of owning a swimming pool, particularly after heavy use during a pool party. Pool maintenance equipment such as leaf eaters, pool brushes, and a digital test strip reader are on sale for 15% for customers who need to upgrade their tools. After maintenance is complete, covering the pool with a solar blanket - 10% off during the Memorial Day Sale at PoolGear Plus - helps ensure a better swimming experience the next time the pool is used, especially in states where cooler temperatures are lingering.
The PoolGear Plus Memorial Day Sale ends at midnight on May 31, 2011. "This is an extended sale, but we want to give our customers plenty of time to save," says Ms. Lynn. "They've come to expect the lowest prices and best quality on pool supplies from us, and we're making sure we continue to deliver."
About PoolGear Plus
With 35 years in the pool supply industry, free shipping with just an $8.99 handling fee, fast delivery, and the best prices on top-quality pool products, PoolGear Plus is the internet's number one choice for pool supplies and equipment. PoolGear Plus delivers the freshest pool and spa chemicals at the lowest prices because they package their own brand of chemicals. Their many years of experience in the pool supplies industry have made them experts in the field and given them the buying power to keep prices low for their growing customer base.
###