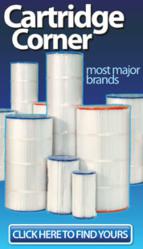 Cartridge Corner is more than a service we're providing to our customers – it's a new level of savings for pool owners
Clearwater, FL (PRWEB) June 07, 2011
Cartridge Corner, a new department at online pool supplies company PoolGear Plus, is an easy-to-use source for pool filter cartridges that will also save pool owners money. Cartridge Corner is an expansion of the already vast selection of pool products PoolGear Plus offers online and provides easy access to the company's best-selling replacement filter cartridges with only a simple part number required.
PoolGear Plus stocks over 8,000 pool products in its warehouses; many are so specialized that they aren't available online. Instead, customers call the Pool Tech Hotline at 888-718-7946 for personalized assistance from a Pool Care Expert. "PoolGear Plus offers full line availability on almost anything the pool supplies industry has to offer, including thousands of spare parts for any pool filter, pump, or other piece of pool equipment ever made," says Rachaelle Lynn, a Pool Care Expert at PoolGear Plus. "Pool owners appreciate being able to call us for expert direction when they need it."
Pool filter cartridges are easy to locate, however, if the customer has the part number – a phone call isn't necessary and can even be an inconvenience. "We want to offer extra support to pool owners when they need us without adding unnecessary tasks to their busy schedules," says Ms. Lynn. "We opened Cartridge Corner because we recognize that many pool owners prefer to do as much of their shopping online as possible; we're making it easy for them to get what they need quickly."
The pool filter cartridges in Cartridge Corner are Pleatco Pure® filter replacement cartridges, which are less expensive than manufacturers' cartridges but of the same high quality. Made in the USA, Pleatco filter cartridges have free-flow cores for increased efficiency and the best filtration, the same top-quality filter media as manufacturer-built cartridges, and antimicrobial end caps that offer excellent resistance to chlorine and cracks.
Cartridge Corner offers easy online access to top-selling pool filter cartridges; the company has hundreds more in stock. Pool owners looking for more obscure replacement filter cartridges can call PoolGear Plus for assistance. Pool owners who don't have a part number can use PoolGear Plus' simple online instructions for measuring a pool filter cartridge and then call 888-718-7946 for help from a Pool Care Expert in locating the correct replacement filter cartridge.
Regardless of whether they order online or over the phone, pool owners will save money by combining their pool filter cartridge purchase with the rest of their order for pool supplies like chlorine tablets, pool shock, algaecide, pool cleaners, solar covers, and pool toys because the company offers free shipping with just an $8.99 handling fee per order. Also, although the pool filter cartridges in Cartridge Corner are competitively priced, Pool Gear Plus has extended their Best Price Guarantee to Cartridge Corner to increase buyer confidence. "With our best price guarantee, free shipping, and just an $8.99 handling fee no matter how much they order, customers will see significant savings over buying their replacement cartridge from another company," says Ms. Lynn. "Cartridge Corner is more than a service we're providing to our customers – it's a new level of savings for pool owners."
About PoolGear Plus
PoolGear Plus provides discount pool chemicals and other pool supplies and equipment with free shipping and just an $8.99 handling fee per order to customers throughout the US except in Florida and a few cities in Southern Alabama, Georgia and Mississippi; these locations are served by PoolGear Plus' sister company, Pinch A Penny, the world's largest franchised retail pool supplies company. PoolGear Plus packages its own brand of pool chemicals including chlorine tablets, pool shock, algaecide, and many specialty pool chemicals and passes the savings on to their expanding customer base. The fastest-growing catalog and online company in the US, PoolGear Plus offers patio accessories and spa and hot tub chemicals and accessories in addition to an increasing array of swimming pool supplies.
###