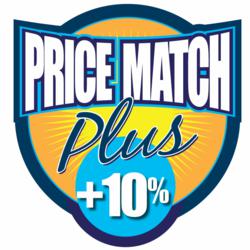 We offer the best prices on pool liners....there's just no reason to shop anywhere else
Clearwater, FL (PRWEB) June 14, 2011
PoolGear Plus, the one-stop shop for discount pool supplies online, has announced the Price Match Plus 10% program for custom inground swimming pool liners. The Price Match Plus program gives PoolGear Plus customers the best prices on inground pool liners by matching a competitor's price and discounting the pool liner an additional 10%, upon customer request. Price Match Plus is part of PoolGear Plus' Best Price Guarantee program, which matches competitor's prices on pool supplies.
The Best Price Guarantee ensures that customers never have to pay a higher total price at PoolGear Plus than they would at a competitor's – and in many cases, they save money. Since PoolGear Plus offers free shipping with just an $8.99 handling fee per order and does not charge sales tax, customers often pay less than they would at a competitor's, who typically charge sales tax and raise handling fees as order totals increase.
Price Match Plus, part of the Best Price Guarantee program, helps pool owners save even more. When customers see the Price Match Plus logo on a category or item, it means PoolGear Plus will match the competitor's price plus discount the price by 5, 10, or even 15%. "Price Match Plus currently applies only to custom inground pool liners," says Rachaelle Lynn, a Pool Care Expert at PoolGear Plus. "But we're excited about this program and anticipate expanding it to other pool products in the near future."
Custom inground pool liners from PoolGear Plus are available in 20 or 28 gauge vinyl; the Price Match Plus 10% policy applies to any custom inground pool liner of the same gauge, excluding clearance and closeout pool liners. Pool owners download a pool liner measuring form so the liner can be custom-created to their specifications. PoolGear Plus carries a wide variety of designs, from elegant and understated to eye-catching and dynamic, so customers can create their own backyard paradises, and manufacturers' warranties allow pool owners to invest in their new pool liners with confidence. PoolGear Plus also provides quick delivery on inground pool liners so pool owners can plan liner installation easily and start enjoying their updated swimming pools sooner.
The Price Match Plus program is part of PoolGear Plus' relentless pursuit of providing unparalleled values to pool owners. "We're earning our customers' trust because we prove, time after time, that we offer the best prices on pool liners and other pool supplies," says Ms. Lynn. "There's just no reason to shop anywhere else."
About PoolGear Plus
The internet's first choice for discount swimming pool supplies, including pool chemicals, automatic pool cleaners, and pool filters and pumps, PoolGear Plus brings 35 years of experience to the industry, which means they have the buying power to keep prices low. In addition to offering the best prices on pool products, PoolGear Plus provides expertise in the form of knowledgeable, friendly technical support representatives both before and after purchases. The company offers frequent special values and pool maintenance tips on Facebook and Twitter and created the Pool Care Tips blog to support pool owners in maintaining healthy swimming pools and spas.
###