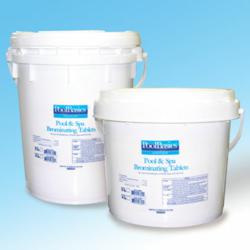 Besides the great low price, customers are getting an outstanding chlorine-free bromine product that offers excellent sanitizing capabilities
Clearwater, FL (PRWEB) June 28, 2011
Discount pool supplies company PoolGear Plus is offering a special buy on bromine tablets for pool and spa owners who use bromine as a sanitizer. Pool Basics bromine tablets, bromine-releasing products for disinfecting pools, spas, and hot tubs, are available for as low as $129.99 for a 45-pound pail. This special buy on bromine tablets allows pool and spa owners the benefits of sanitizing with bromine at low warehouse pricing.
Because bromine is more stable than chlorine at higher water temperatures, it is often used as a sanitizer for indoor pools, spas, and hot tubs. Bromine also has a very mild odor with no strong fumes, making it a more attractive sanitizing option than chlorine for many pool and spa owners. Bromine costs more per pound than chlorine, but PoolGear Plus's special buy makes bromine tablets far more affordable. "We're excited to be able to offer such a fabulous price on bromine," says Rachaelle Lynn, a Pool Gear Plus Pool Care Expert. "Especially on such a top-quality bromine product!"
Pool Basics bromine tablets contain more available bromine than any other disinfectant. Other pool supply companies sometimes sell bromine tablets with chlorine as 50% or more of the active ingredient. This means that in addition to paying more for bromine than they should, pool and spa owners still have to deal with the negative effects of chlorine, including faster degradation, eye and skin irritation from chloramines (caused by too little free available chlorine), and fading of fabrics like bathing suits and towels. Pool Basics bromine tablets from PoolGear Plus are absolutely chlorine-free; the active ingredient is all bromine.
In addition to being top-quality bromine tablets at warehouse pricing, Pool Basics bromine tablets are specially-designed with a nearly neutral pH to have a minimal impact on pool and spa / hot tub water balance, are stabilized against degradation by sunlight for use in outdoor pools and spas / hot tubs, and feature a low level of corrosiveness that makes them an ideal choice for use in indoor pools, spas, and hot tubs.
Designed for use with all types of pool and spa / hot tub filters and compatible with all types of construction materials, Pool Basics bromine tablets will not fade vinyl liners at normal use levels. "Pool Basics bromine tablets from PoolGear Plus are a special buy in more ways than one," says Ms. Lynn. "Besides the great low price, customers are getting an outstanding chlorine-free bromine product that offers excellent sanitizing capabilities. Though PoolGear Plus has low prices, we have high standards, and it shows in our products."
About PoolGear Plus
PoolGear Plus, the discount pool supplies superstore, consistently offers the lowest prices on pool chemicals, hot tub / spa chemicals, and other pool and spa products. The company's mission to provide the utmost in value, quality, and service is supported by its 35-year history in the pool supplies industry in addition to continual efforts to bring increasing levels of savings and quality to its growing customer base. PoolGear Plus offers a Best Price Guarantee, free shipping with just an $8.99 handling fee per order, and frequent discounts and special offers as part of its commitment to 100% customer satisfaction with every pool product purchased at PoolGear Plus.
###