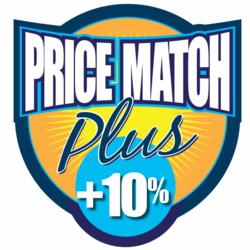 [PoolGear Plus] will match a competitor's price on any same-item solid or mesh safety cover, whether standard or custom, plus discount the safety cover by 10%.
Clearwater, FL (PRWEB) June 29, 2011
PoolGear Plus, the low-price leader in the pool supplies industry, has announced that they will extend their Price Match Plus 10% program, already in effect on custom inground pool liners, to safety covers. The Price Match Plus policy will ensure that PoolGear Plus customers get the best deals on standard and custom mesh and solid safety covers by matching a competitor's price and discounting the safety cover an additional 10%, upon customer request. Price Match Plus is part of the Best Price Guarantee at PoolGear Plus, which matches competitors' prices on pool supplies.
The Best Price Guarantee helps pool owners save money by making sure that they never have to pay more at PoolGear Plus than they would at a competitor's – and in many cases, saving them money. PoolGear Plus offers free shipping with an $8.99 handling fee per order that never goes up, no matter how much the customer buys. And PoolGear Plus does not charge sales tax, saving pool owners even more, especially on larger purchases such as a safety cover.
Now that safety covers are included in the Price Match Plus program, customers can save even more by comparison shopping and presenting proof of a lower price on exactly the same safety cover to a PoolGear Plus representative. "Because of our fantastic free shipping and $8.99 per order handling fee and because we don't charge sales tax, pool owners get the best deal by comparing total item price at checkout," says Rachaelle Lynn, a Pool Care Expert at PoolGear Plus. "We never charge a lower item price only to give our customers sticker-shock at checkout by adding fees back in to make up the difference – with PoolGear Plus, what you see is what you get."
The transparent pricing structure and Price Match Plus program aren't the only reason pool owners will want to invest in safety covers from PoolGear Plus. Both solid and mesh safety covers from PoolGear Plus are manufactured with full reinforced webbing on top and bottom for full grid coverage, with 30% more strapping for greater strength. They also feature triple stitching on all webbing for extra reinforcing and a much stronger safety cover than brands carried by many other pool supply retailers. Purchase of a safety cover at PoolGear Plus includes a cover belt for storage, an identification tag sewn into the safety cover to make future repairs and reorder easy, and a generous manufacturer's warranty. "As always, PoolGear Plus is keeping prices low without compromising quality," says Ms. Lynn. "We're committed to being the best choice for pool supplies in every way."
About PoolGear Plus
PoolGear Plus' 35-year history in the pool supplies industry has given them the power to keep pricing on pool supplies and pool equipment low, and the company passes those savings on to their customers. As a one-stop shop for pool supplies online, PoolGear Plus also provides customer support through their website, the Pool Care Tips blog, Facebook and Twitter pages, monthly newsletters, and a Pool Tech hotline at 888-718-7946.
# # #