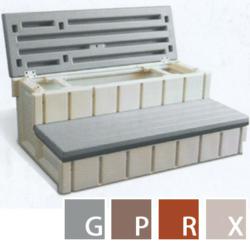 Through July 4th, 2011, PoolGear Plus is holding a storewide sale that allows customers to save 10% on their entire purchase, including all backyard living products
Clearwater, FL (PRWEB) June 30, 2011
Discount pool supplies superstore PoolGear Plus is offering many new products to enhance the backyard living experience and help both pool owners and non-pool owners save money. Backyard accessories including spa furniture, fire pits, BBQ grills, and even pressure cleaners are available alongside pool supplies on the company's website. And through July 4th, 2011, PoolGear Plus is holding a storewide sale that allows customers to save 10% on their entire purchase, including all backyard living products. As always, PoolGear Plus customers enjoy no sales tax, free shipping, and just an $8.99 handling fee on each order.
PoolGear Plus added several pieces of spa furniture to their existing line; one that has proven to be popular already is the spa step with storage. This spa step offers beauty, durability and valuable storage space all in one and is a generous 36" wide. As with the other spa furniture PoolGear Plus added, this spa step is made of maintenance-free resin. The removable storage compartment provides easy cleaning. The spa step with storage comes fully-assembled, supports up to 300 pounds, and has a one-year full warranty.
Fire pits, campfires, and torches were already part of the backyard living department on PoolGear Plus' website, but this year the company added the HotSpot Square Fire Pit, a sturdy, attractive fire pit that is built to last and perfect for modern décor. This fire pit is a 26" x 26" steel fire box with stainless steel legs and comes with a one-piece dome spark screen coated with high-temperature paint. The HotSpot Square Fire Pit retails for $161.99 during the sale with free shipping and just an $8.99 handling fee. This fire pit provides atmospheric lighting and heat for cozy, relaxing evenings with family and friends.
A tabletop charcoal grill offers families the opportunity to combine fun in the sun with healthy, delicious meals. PoolGear Plus has added the Notebook Charcoal Grill by Fire Sense to its BBQ grill offerings because this portable charcoal grill's design allows it to stand 14.18 inches for use and then fold flat to just one inch in seconds, creating its own carrying case. Terrific for backyard picnics, tailgating, camping, and the beach, the Notebook Charcoal Grill allows BBQ aficionados to practice their grilling skills just about anywhere. Constructed of high heat resistant painted steel, this sturdy charcoal grill retails for an affordable $40.48 including the handling fee during the sale.
Backyard living is a more enjoyable experience when the deck, patio, and fencing are clean and well-maintained, so this summer PoolGear Plus included the Dirt Devil® Hydro Pressure 2-in-1 Portable Outdoor Cleaning System in their product offerings. This cleaning system features an 1800-max PSI pressure washer plus a two-gallon removable wet/dry vac; two users can operate both machines at once for faster cleaning. With two detergent tanks with individual dials, the Hydro Pressure 2-in-1 has the capacity for multiple solutions so it can be used to clean nearly any surface. A 35' power cord with a GFCI manual reset allows homeowners to safely extend their pressure cleaner use outdoors. There is a $30 mail-in rebate on the Hydro Pressure 2-in-1 for even greater savings over sale pricing.
About PoolGear Plus
PoolGear Plus is a one-stop shop that provides discount pool supplies to customers via their website and catalogs. Because they manufacture their own brands of spa and pool chemicals, PoolGear Plus is able to offer the lowest prices on the market for top-quality chemicals. PoolGear Plus' focus on quality control also ensures that their customers get the freshest chlorine, pool shock, algaecides, and water balancers available. PoolGear Plus' commitment to their customers means that they are constantly working to ensure 100% satisfaction with every product purchased.
###