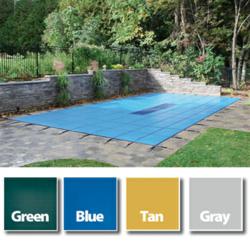 The new lower prices on solid pool safety covers from PoolGear Plus offer substantial savings
Clearwater, FL (PRWEB) July 12, 2011
Backyard swimming pool supplies company PoolGear Plus has unveiled new lower prices on solid pool safety covers for consumers planning the purchase of new safety covers prior to closing their pools in fall. To give pool owners even more incentive to buy their safety covers at PoolGear Plus, the company is extending their Price Match Plus 10% program to solid pool safety covers.
Safety covers not only protect swimming pools from harsh winter conditions but act as safety devices to help prevent unauthorized access by children and animals. Safety covers, which can withstand a substantial amount of weight, are more attractive than conventional winter covers because they are made to fit snugly on the pool. Solid safety covers keep debris out of the pool as well as block most sunlight from entering the pool, which helps prevent algae growth.
The new lower prices on solid pool safety covers from PoolGear Plus offer substantial savings. For example, a solid safety cover for an inground pool measuring 16' x 32' with a 4' x 8' center step that previously retailed for $809.99 is now $649.99. A solid safety cover for an inground pool measuring 18' x 36' with a 4' x 8' left step is just $849.99, down from $974.99. These solid pool safety covers come with two-year full warranties and 10-year limited warranties and are available in the pool owner's choice of green, blue, tan, or gray. Consumers who find a same-item solid safety cover at a competitor's for less can submit proof to a PoolGear Plus Pool Care Expert, who will determine eligibility for an additional discount through the Price Match Plus 10% program.
Solid pool safety covers from PoolGear Plus come with drain panels, which eliminate tiresome pumping during spring pool opening since most water drains off the cover through the panel. Fifty percent lighter yet up to 30% stronger than conventional solid safety covers, these covers feature 5' x 5' double strapping on the top and bottom throughout the entire length of the cover for enhanced durability and strength. All strap cross-sections and perimeter points include cross-stitched reinforcement with UV-resistant polyester thread. Seventeen-inch soft-component rub strips offer added long-term performance and protection. The material of these safety covers features an exclusive coating that contains an anti-abrasive additive and is made to resist mold and mildew.
Each solid pool safety cover purchased from PoolGear Plus comes complete with corrosion-resistant brass securing anchors, double stainless steel springs (full-compression single-spring strength is an industry-leading 649 pounds), an installation tool, and a storage bag.
Standard solid pool safety covers from PoolGear Plus are pre-cut for rectangular pools with right, center, or left steps or with no steps. Standard safety covers will not accommodate slides or other obstructions within 18" of the pool's edge. Pool owners with oval, kidney-shaped, or custom-sized inground swimming pools can use the PoolGear Plus safety cover measuring form to obtain a quote for a custom-made safety cover.
PoolGear Plus provides discount pool supplies including pool chemicals, automatic pool cleaners, pool filters and pumps, winter covers and safety covers, pool safety products, patio accessories, and spa chemicals and accessories, as well as above ground swimming pools, through their website and catalog. PoolGear Plus offers a variety of customer incentives, including the Best Price Guarantee program, the Price Match Plus 10% program on safety covers and custom inground pool liners, and free shipping with no sales tax and just an $8.99 handling fee per order.
###