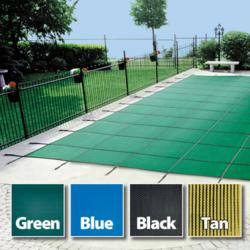 The newly-reduced prices on mesh safety covers from PoolGear Plus offer sizable savings.
Clearwater, FL (PRWEB) July 19, 2011
Swimming pool supplies company PoolGear Plus® has introduced new lower pricing on mesh safety covers for customers considering the purchase of new safety covers before closing their inground swimming pools in fall. And to provide pool owners even greater motivation to order their safety covers at PoolGear Plus, the company has extended their Price Match Plus 10% program to mesh safety covers.
Safety covers not only shield swimming pools from tough winter conditions like wind, snow and ice but help prevent accidental drowning. Capable of supporting a significant amount of weight, safety covers also create a more attractive appearance than traditional winter pool covers because they are designed to tightly fit the pool. Mesh safety covers allow rainwater and melted snow to drain off the cover, which eliminates time-consuming, labor-intensive pumping during spring pool reopening. Mesh safety covers also keep debris such as sticks, leaves, and dirt out of the pool.
Ruggedly constructed with a material break-strength of 4000 pounds, mesh safety covers from PoolGear Plus are also lightweight for easy-on, easy-off convenience. These safety covers are manufactured from sturdy, UV-protected polypropylene micro-weave materials and fabricated with full reinforced webbing on top and bottom for complete grid coverage; triple stitching on all webbing offers additional stability.
The newly-reduced prices on mesh safety covers from PoolGear Plus offer sizable savings. For instance, a mesh safety cover for a 16' x 32' inground pool with a 4' x 8' center step that was priced at $649.99 is now $549.99. A mesh safety cover for a 20' x 40' inground pool that has a 4' x 6' center step is now priced at $799.99, down from $899.99. Mesh safety covers from PoolGear Plus come with two-year full warranties and 15-year limited warranties in the pool owner's choice of green, blue, or black (black-and-tan safety covers are also available in some sizes). Customers who locate a same-item mesh safety cover at a competitor's for a lower price may be eligible for an additional price reduction through the Price Match Plus 10% program.
Every mesh safety cover purchased from PoolGear Plus is delivered as a complete kit with a weather-resistant and corrosion-resistant anchoring system, an installation tool, and a heavy-duty storage bag for off-season protection of the safety cover. PoolGear Plus customers do not pay sales tax or shipping and pay only an $8.99 handling fee per order for delivery of their safety covers, as well as other pool supplies.
Standard rectangular safety covers will not accommodate slides or other obstructions within 18" of the edge of the pool; customers with irregularly-shaped or -sized swimming pools can complete PoolGear Plus' easy-to-use measuring form for a no-obligation price quote on a custom safety cover.
About PoolGear Plus
PoolGear Plus provides discount pool supplies such as pool chemicals, automatic pool cleaners, pool filters and pumps, winter covers and safety covers, pool safety products, patio accessories, and spa chemicals and accessories, in addition to above ground swimming pools, through their website, e-catalog, and print catalog. Customers of PoolGear Plus enjoy a Best Price Guarantee on all pool supplies, a Price Match Plus 10% program on safety covers and custom inground pool liners, and free shipping with no sales tax with just an $8.99 handling fee per order.
# # #