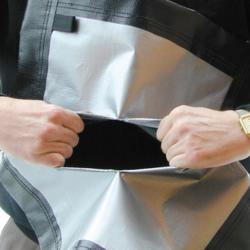 First-time PoolGear Plus customers can receive an additional 10% off standard or custom safety covers
Clearwater, FL (PRWEB) July 26, 2011
The sale on safety covers at online pool supplies retailer PoolGear Plus is perfect timing for consumers who want to get a head start on fall pool closing. Both solid and mesh safety covers are available on the company's website at substantial savings. New PoolGear Plus customers can save an additional 10% by signing up for e-newsletters and special offers on the company's home page before purchasing their safety covers. The sale on safety covers is further enhanced by PoolGear Plus' Price Match Plus 10% program, which offers increased assurance that customers are getting the best values on safety covers at PoolGear Plus.
The pre-season sale on safety covers at PoolGear Plus includes all solid and mesh standard rectangular safety covers for inground pools. Standard rectangular safety covers can be used if the pool is a perfect rectangle with square corners, has at least three feet of concrete deck around the entire perimeter of the pool, and is free of obstructions such as slide legs, un-removable handrails/ladders, and dive stands within 18 inches of the pool's edge.
Pool owners with rectangular inground swimming pools that have rounded corners or who have oval, kidney, free-form, or other non-standard pool shapes and sizes can still get a safety cover at a great price from PoolGear Plus. The company has an easy-to-use measuring form that shoppers can complete for free, no-obligation quotes on custom safety covers. PoolGear Plus has a Price Match Plus 10% program on all safety covers, which means they will match any competitor's price plus discount the safety cover an additional 10% to ensure that consumers can purchase safety covers from PoolGear Plus with complete confidence.
First-time PoolGear Plus customers can receive an additional 10% off standard or custom safety covers by signing up for the company's e-newsletters and special offers list at the top right corner of any page of the PoolGear Plus website. All PoolGear Plus customers receive the following benefits of buying at PoolGear Plus: No sales tax, free shipping, and just an $8.99 handling fee no matter how large the purchase. All safety covers are shipped as complete kits that include corrosion-resistant brass securing anchors, stainless steel springs, an installation tool, and a heavy-duty storage bag.
PoolGear Plus proudly carries Aqua Master® solid safety covers and Deck-Tite® mesh safety covers, two top-quality brands that stand up particularly well against competitors' covers in apples-to-apples comparisons. For example, Aqua Master and Deck-Tite safety covers are manufactured with full reinforced webbing on top and bottom for full grid coverage, with 30% more strapping for greater strength. Most solid and mesh safety cover manufacturers do not offer full grid coverage and offer double webbing on the perimeter binding seams and rub strips only, creating a weaker cover. Aqua Master solid safety covers come with two-year full and 10-year limited warranties; Deck-Tite mesh safety covers have two-year full and 15-year limited warranties. Most major safety cover brands offer less-comprehensive, lower-term warranties, giving pool owners less confidence in their safety cover investments. Stronger safety covers with great warranties help pool owners invest in safety covers that will protect their families and their pools for many years to come.
About PoolGear Plus
PoolGear Plus offers an ever-expanding array of swimming pool products via their print catalog, e-catalog, and website. As the manufacturer of a variety of top-quality pool and spa chemicals, PoolGear Plus keeps prices low while delivering the freshest products directly to their customers' doors. The company's diverse product line includes pool supplies basics such as pool chemicals, automatic pool cleaners, pool filters and pumps, and safety covers, but also encompasses many other products to enhance outdoor living, such as patio décor, outdoor furniture, grills, patio heaters, and home improvement products.
###