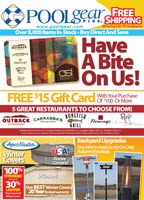 This special offer from PoolGear Plus helps customers get an even better value when shopping for winter pool supplies.
Clearwater, FL (PRWEB) September 13, 2011
Discount pool supplies retailer PoolGear Plus® is offering a $15 gift card to the customer's choice of five great restaurants with the purchase of $100 or more from their latest online catalog. The gift card may be used at Outback Steakhouse®, Carrabba's Italian Grill®, Bonefish Grill®, Fleming's® Prime Steakhouse & Wine Bar, or Roy's Hawaiian Fusion® Cuisine. This special offer from PoolGear Plus* helps customers get an even better value when shopping for winter pool supplies.
PoolGear Plus' online catalog provides a different shopping experience than that of a typical e-commerce website. Easy navigation and the ability to place the order directly on the company's website make shopping for pool supplies enjoyable and secure for the customer. "Customers appreciate being able to browse pages of similar products instead of viewing just one item at a time," says Rachaelle Lynn, a Pool Care Expert at PoolGear Plus. "And being directed to the shopping cart on our website after making their selections means they get the same secure check-out that PoolGear Plus customers already know they can trust."
The products featured in this online pool supplies catalog closely mimic those in PoolGear Plus' print catalog, such as winter pool covers, pool safety covers, pool closing kits, pool closing accessories, pool chemicals, spa chemicals, pool equipment, automatic pool cleaners, and pool maintenance equipment. By shopping for winter pool supplies from the online catalog, customers cut down on paper clutter and help the environment. And this e-catalog is not only eco-friendly, it's iPad-friendly. "An increasing number of our customers are using their iPads to shop," says Ms. Lynn. "We're excited to be introducing this modern retail element to the pool supplies industry."
PoolGear Plus plans to provide other discounts and special offers through future online catalogs. "This is just one aspect of our continuing effort to meet the wide range of needs of pool and spa owners," says Ms. Lynn. "It's been a big hit with our customers, who love both the excellent restaurant selection on the gift card and the fact that the e-catalog brings a new dimension to shopping for swimming pool supplies."
*OSI Restaurant Partners, LLC (Outback Steakhouse of Florida, LLC, Carrabba's Italian Grill, LLC, Bonefish Grill, LLC), is not a sponsor or co-sponsor of this promotion. Please see back of gift card for terms and conditions of use.
About PoolGear Plus
Discount pool supplies superstore PoolGear Plus is the best place to shop for the lowest prices on pool chemicals, spa chemicals, and other pool and spa products. The company's 35-year history in the pool supplies industry illustrates their dedication to providing the utmost in value, quality and service to their customers. PoolGear Plus has a Buy With Confidence price-match policy and free shipping with a low $8.99-per-order handling fee on pool and spa supplies as part of their commitment to 100% customer satisfaction with every item purchased.
###