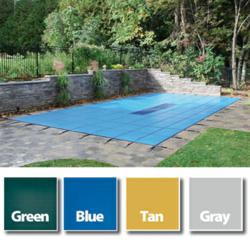 Prices on safety covers from PoolGear Plus are very competitive – the company even offers a Price Match Plus 10% program on all mesh and solid safety covers.
Clearwater, FL (PRWEB) September 20, 2011
Discount pool supplies retailer PoolGear Plus is offering new low pricing on both mesh and solid safety covers perfect for the large numbers of swimming pools that have been abandoned due to home foreclosures. A pool safety cover helps prevent a tragedy from occurring for which the homeowner, mortgage company, and/or property's insurer may be financially liable. Safety covers, available from PoolGear Plus in both standard and custom sizes and shapes, are on sale as low as $299.99.
The staggering number of foreclosures across the US has led to many residential swimming pools being left unguarded and in disrepair. This poses a neighborhood safety hazard, particularly to children, senior citizens, and animals. Pool safety covers are designed to prevent unauthorized access by people and animals; they fit swimming pools snugly and can withstand a substantial amount of weight. Safety covers also help prevent maintenance problems like algae growth as well as damage to pool surfaces by keeping most sunlight, dirt, and debris from entering the pool.
PoolGear Plus offers both solid and mesh safety covers. Solid safety covers from PoolGear Plus come with mesh drain panels that allow most water to drain off the cover; safety covers without drain panels that come with automatic electric pumps are available on request. Mesh safety covers are lighter-weight for easy placement and removal and typically cost less than solid safety covers, but block less sunlight and debris from the pool. All safety covers from PoolGear Plus come complete with weather- and corrosion-resistant anchoring system, installation tool, and storage bag.
Safety covers not only help prevent tragic accidents from happening in unguarded swimming pools but provide a much better pool opening experience for the new homeowner when the property is eventually sold. Minimizing the amount of sunlight and debris that enter the pool while the home is abandoned and the pool is not being maintained can raise the value of the home in the buyer's estimation because the pool will require less work. The safety cover itself also serves as an added value for the potential buyer.
Prices on safety covers from PoolGear Plus are very competitive – the company even offers a Price Match Plus 10% program on all mesh and solid safety covers. This policy allows consumers to buy with confidence because if they find a lower total price on the same solid or mesh safety cover at a competitor's, PoolGear Plus will match it, plus discount the safety cover by an additional 10%.
About PoolGear Plus
PoolGear Plus provides discount pool supplies online and via print and e-catalogs while striving to provide the utmost in value, quality and customer service to residential swimming pool owners. The fastest-growing catalog and online company in the US, PoolGear Plus offers free shipping with just an $8.99 handling fee on all pool supplies purchases.
###