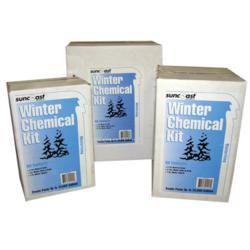 PoolGear Plus offers new Hot Deals approximately every two weeks to ensure that their customers get the best deals on pool supplies
Clearwater, FL (PRWEB) October 04, 2011
PoolGear Plus®, the online pool supplies superstore, has released new Hot Deals on pool closing kits, pool antifreeze, automatic pool cleaners and more on the home page of their website. Sale prices are valid through October 17, 2011. PoolGear Plus refreshes their Hot Deals on pool supplies every two weeks so that pool and spa owners are continually offered the lowest prices on products they need to keep their pools and spas healthy and enjoyable.
Even in states where the weather has cooled considerably, many pool owners have delayed closing their swimming pools, so PoolGear Plus has extended their sale on pool winterizing kits. At 10% off, these pool closing kits are an excellent value because they minimize algae growth and pool staining while pools are closed for winter. Available in three sizes, pool winterizing kits from PoolGear Plus include free extra Suncoast® Oxidizing Shock & Swim, a non-chlorine pool shock that eliminates organic contaminants.
Properly preparing swimming pools for winter is an important part of pool maintenance, especially given the investment residential pool owners have in their pools, so pool antifreeze is a necessity to help provide protection from harsh winter temperatures. When used full-strength, Swimming Pool Antifreeze from PoolGear Plus protects pool plumbing down to 50 degrees below zero Fahrenheit, and it is a Hot Deal at just $43.96 for four gallons.
Pool Basics® Bromine Tablets have been featured as a Hot Deal on PoolGear Plus' home page several times and have proved to be very popular due to their low price and high quality. At a price as low as $2.89 per pound with the purchase of 45 pounds, these 100% bromine tablets are favored by those in the hospitality industry as well as residential swimming pool owners. Ideal for use in indoor pools and spas, Pool Basics Bromine Tablets have a low level of corrosiveness and a very mild odor and are specially-designed to have a minimal impact on pool and spa water balance.
Pool owners who want to minimize time spent on pool maintenance will appreciate PoolGear Plus' Hot Deal on the PoolShark® automatic pool cleaner, which has a $50 mail-in rebate. The PoolShark inground pool cleaner features two-way cleaning action; the vacuum pad contains multiple rows of squeegee-like fins that scrub and dislodge stubborn dirt, while the flapper assembly and vortex chamber create a powerful suction effect to easily vacuum away small and large debris.
As a pool supplies superstore with the lowest prices on the best pool products on the market, PoolGear Plus offers new Hot Deals approximately every two weeks to ensure that their customers get the best deals on pool supplies. Shopping at PoolGear Plus has many benefits; with zero sales tax, free shipping, and just an $8.99 handling fee even on large orders, PoolGear Plus customers can buy with confidence, knowing they are receiving the lowest total prices on pool supplies and equipment.
About PoolGear Plus
PoolGear Plus offers the largest selection of the best pool supplies in the industry, including the Suncoast® brand of pool chemicals as well as pool equipment from name brands like Hayward® and Pentair Water Pool and Spa®, via their website, e-catalog, and print catalogs. Pool owners enjoy shopping at PoolGear Plus because of the Buy With Confidence policy, which guarantees that they will receive the lowest possible total price on their swimming pool supplies purchases. PoolGear Plus does not charge sales tax, offers free shipping, and requires just an $8.99 handling fee even on large orders as part of their mission to provide the best deals on pool supplies without forcing consumers to spend hours comparison-shopping online, saving them money, time, and energy.
###