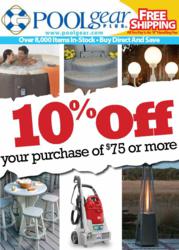 Shoppers will save 10% on any purchase over $75 from the PoolGear Plus online catalog.
Clearwater, FL (PRWEB) October 11, 2011
PoolGear Plus, which offers discount spa supplies online, has launched a new e-catalog of spas, spa products, and backyard living items such as pressure cleaners and patio heaters. Shoppers will save 10% on any purchase over $75 from the online catalog. The PoolGear Plus e-catalog provides consumers with the opportunity to browse products that will get spa season off to a great start and backyard living items that will help them enjoy beautiful fall weather.
The first section of the online catalog features products tailored to the start of spa season, such as spa fragrances, spa sanitizers, spa steps, and spa accessories. PoolGear Plus recently added SPAroma Spa Fragrance Capsules to their product offerings; at just $6.99 for a 12-pack assortment, these time-release spa fragrance capsules are a great deal. PoolGear Plus also has spa start-up kits, which come with free Spa Care Guides, for $49.99; spa owners select a kit for chlorine-sanitized or for bromine-sanitized spas. The e-catalog also includes spa steps with or without storage, spa lights, and spa-side towel racks to make using spas easier and more convenient.
PoolGear Plus' latest online catalog includes many backyard living products for enjoying the outdoors and for entertaining. Patio lights, patio heaters, fire pits and campfires will make any backyard more attractive and enjoyable now that cool fall evenings have arrived. Beautiful, durable, weather-resistant patio bar sets and picnic tables make spontaneous gatherings with family and friends easy and fun. Consumers looking for products to help them maintain their patios will like the pressure cleaners and patio paint, plus decorative functional accessories like clock thermometers, in the PoolGear Plus e-catalog.
Though many swimming pool owners have closed their pools for winter, those in some parts of the US are able to make the most of continued warm weather. A solar blanket from the PoolGear Plus e-catalog can help extend their summer by keeping pool water from losing excessive heat overnight as well as warming it with the sun's rays during the day. A solar blanket reel adds value because it saves time as well as wear and tear on the cover. Pool owners may also want to consider pool heat pumps or liquid propane pool heaters from the PoolGear Plus online catalog for pool heating.
Pool owners who intend to close their pools for winter but have not yet done so can save on winter covers, winter cover accessories, and winter pool chemicals with the PoolGear Plus coupon code found in the e-catalog. Winter pool products in the online catalog include safety covers for inground pools, winter covers for inground and above ground pools, water tubes, air pillows, submersible pumps, pool closing kits, and pool antifreeze.
About PoolGear Plus
Discount pool supplies superstore PoolGear Plus' wide range of products includes the best pool supplies and equipment, spa supplies and spa accessories, and backyard living items available. With frequent discount offers, no sales tax, free shipping, and just an $8.99 handling fee per order, PoolGear Plus continues to provide fantastic savings backed by excellent service to their customers.
# # #