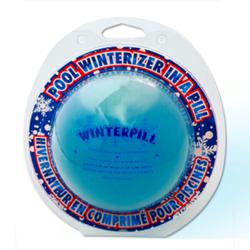 PoolGear Plus offers zero sales tax, free shipping, and just an $8.99 handling fee even on large orders of pool supplies and other products
Clearwater, FL (PRWEB) November 09, 2011
Pool supplies company PoolGear Plus® has posted new Hot Deals on pool closing kits, WinterPills, bromine tablets, chlorine tablets and more on their home page. All sale prices are valid through November 21, 2011. The Hot Deals at PoolGear Plus also include several pieces of game room equipment such as air hockey tables, tabletop pool tables, electronic basketball games, and dart cabinet sets for winter-long indoor entertainment.
WinterPills, a bestseller at PoolGear Plus this fall, are 15% off and come in two sizes: For pools up to 12,000 gallons and for pools up to 30,000 gallons. The WinterPill is a pool winterizer in a pill with a patented six-month delivery system of a four-part blend that makes spring pool opening faster and easier. The WinterPill is also enzyme-enhanced to prevent water ring, improve pool filter performance, and help make sanitizers more efficient.
Pool closing kits are also on sale at PoolGear Plus for 15% off with free Oxidizing Shock & Swim with every purchase. Pool closing kits minimize algae growth and pool staining as well as eliminate organic contaminants for a stress-free pool opening that requires minimal maintenance so pool owners and their families can get back to enjoying their pools sooner in spring.
Pool Basics® Bromine Tablets are also a Hot Deal at PoolGear Plus. Priced as low as $2.89 per pound with the purchase of 45 pounds, these 100% bromine tablets are perfect as a sanitizer for indoor pools and spas. Pool owners who use chlorine as a sanitizer will love PoolGear Plus' deal on 3" chlorine tablets - $1.99/lb. with the purchase of 50 pounds of Premium Chlorine Tablets.
PoolGear Plus' new game room equipment will keep even the most active families happy indoors all winter. The Carmelli™ 5' Air Hockey Table with electronic scoring brings the quality of arcade hockey home with rugged reinforced legs and extra-thick MDF construction that mean this air hockey table won't shimmy or twist, even with the hardest shots. The Dual Electronic Basketball Arcade Game is made with a thick steel frame and solid wooden backboard to outlast the competition, yet folds up for easy storage. The 40" tabletop pool table is lightweight, economical, and perfect for introducing the game of pool to kids, making it a great gift selection. And the solid wood dart cabinet set includes everything needed to play a high-stakes game of darts, packed into a beautiful deluxe solid wood dartboard cabinet.
About PoolGear Plus
As the top retailer for the lowest prices on the best pool supplies on the market, PoolGear Plus offers new Hot Deals every two weeks, carefully selected to ensure that their customers always get great deals on the pool supplies they need now. PoolGear Plus also lives up to the "Plus" in their name by offering fun, top-quality products that enhance consumers' lifestyles by improving the health and happiness of their entire families. And with zero sales tax, free shipping, and just an $8.99 handling fee even on large orders of pool supplies and other products, PoolGear Plus customers buy with confidence and return to PoolGear Plus again and again for more terrific deals from a company they know they can trust.
###