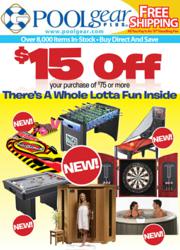 PoolGear Plus' new e-catalog at http://plgrpls.co/cat has a special discount of $15 off purchases of $75 or more just in time for the holiday season.
Clearwater, FL (PRWEB) November 21, 2011
PoolGear Plus, famous for the lowest prices on pool supplies, is featuring several new product lines geared to entertaining families during the long winter months in their latest e-catalog. Shoppers will save $15 off purchases of $75 or more when they buy saunas, spas, game tables, and snow toys from this PoolGear Plus online catalog.
The first section of the latest PoolGear Plus e-catalog showcases infrared saunas, spas, and above ground swimming pools. Saunas provide relaxing, revitalizing infrared heat that helps ease aching muscles, stress and tension and often helps relieve symptoms of chronic conditions like asthma, migraines, and arthritis. PoolGear Plus also offers portable spas and even an inflatable hot tub for enjoying affordable relaxation on the go. Those in the market for an above ground swimming pool for spring will want to browse PoolGear Plus' great selection of well-built, attractive pools.
The next part of the online catalog lets consumers browse the fun tabletop games and game tables that PoolGear Plus added to their product line this year. These game room items help keep PoolGear Plus customers and their families entertained when they're stuck indoors due to rain or snow. The lineup of tabletop games includes air hockey, foosball, pool, and soccer; full-size game tables include air hockey, pool, soccer, table tennis, and shuffleboard. There's also a basketball arcade game, dart cabinet, and 3-in-1 poker table in the e-catalog. And for those who can't make up their minds about which games they like best or who have limited game table space, PoolGear Plus offers two multi-game tables. Many game table accessories are also available in the e-catalog.
For hours of fun and exercise on the snow slopes, PoolGear Plus' online catalog offers a huge variety of foam sleds, snow carpets, toboggans, plastic sleds, snow discs, snow tubes and even an inflatable snow fort. Available in a variety of eye-catching styles, designs and colors for one, two, or three riders, the snow sleds offer opportunities for fun on the slopes ranging from safe, comfortable rides for young children and beginners to dominating the slopes with exhilarating fast-paced rides for older children and adults. The inflatable snow fort also gets the kids outdoors for exercise and playtime in winter with its warm sunlit interior due to the front window panel and insulated dome structure.
The PoolGear Plus online catalog also features many of their bestselling pool and spa products, and the special offer of $15 off purchases of $75 or more may be used on spa and pool supplies. All purchases from the e-catalog are completed on the PoolGear Plus website for safe and secure checkout.
About PoolGear Plus
PoolGear Plus provides spa and pool supplies and equipment online at discount prices with zero sales tax, free shipping, and just an $8.99 handling fee on any size order. With 35 years' experience in the pool supplies industry and as the manufacturer and packager of their own line of pool chemicals, PoolGear Plus is able to offer the lowest prices on all types of pool supplies to their growing customer base. PoolGear Plus' mission is to be a one-stop shop for pool supplies and other life-enhancing products and to provide the utmost in quality, value and service to their customers.
###