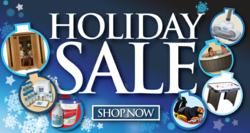 The PoolGear Plus Holiday Sale begins at midnight on Thanksgiving Day and runs through November 28, 2011.
Clearwater, FL (PRWEB) November 24, 2011
PoolGear Plus, the internet's number one source for pool supplies, has announced a giant Thanksgiving weekend sale with discounts on products ranging from game tables, tabletop games, and snow toys to automatic pool cleaners, spa chemicals, and pool chemicals to saunas, above ground swimming pools, and even an inflatable hot tub. Sale prices are valid from November 24-28, 2011.
Examples of tabletop games on sale at PoolGear Plus during the holiday sale include 15% off a 40" tabletop pool table, 15% off a 38" tabletop foosball table, and 15% off a 40" tabletop air hockey table. Full-size game tables include 10% off a 7' pool table with table tennis top, 15% off a basketball arcade game, and 15% off a 20-in-1 multi-game table.
Select snow toys are discounted 15% in the PoolGear Plus Holiday Sale, including select Airhead® foam sleds, the World Industries Crushers 48" 3D Molded Sled, select Airhead plastic sleds, and select Sportsstuff® snow tubes including the Stingray, Heatseeker, Double Amerisport, and Air Flyer.
Many of PoolGear Plus' infrared saunas are 10% off for Thanksgiving weekend, including the two most popular models: The 2-person carbon sauna and the 3-person corner carbon sauna. Each of these infrared saunas is fully-equipped with towel and magazine racks, a CD player with MP3 plug-in, backrests, a color therapy light, and an oxygen ionizer. Infrared saunas from PoolGear Plus are offered with no sales tax, free shipping, and just an $8.99 handling fee.
A new above ground swimming pool is the perfect gift for the entire family because it offers fun, exercise, and many years of lasting happy memories. PoolGear Plus has the entire Radiance line of above ground pools discounted by 25% for the five days of this holiday sale. The winter season is a great time to make an above ground pool investment to allow time for preparation and installation before spring pool opening.
The AeroSpa® inflatable hot tub is an excellent gift for RV travelers because it is completely portable, easily stored, and self-inflates in minutes. At $499.99, PoolGear Plus is offering the AeroSpa at 10% less than the price of other major retailers.
Another great gift idea is an automatic pool cleaner for the family member who does the bulk of swimming pool maintenance. PoolGear Plus has two of its most popular pool cleaners on sale, and both have $50 manufacturer's rebates: The Pool Shark® Inground Automatic Pool Cleaner is just $149.99 after discount and mail-in rebate, and the Kreepy Krauly® Inground Automatic Pool Cleaner is only $249.99 after discount and rebate.
PoolGear Plus also has spa supplies on sale at a time of the year when many spa owners enjoy their spas much more frequently. All Spa Choice® Spa Chemicals are 15% off in the PoolGear Plus Holiday Sale to help maintain clean, healthy spas and hot tubs at a great price. Also on sale are two bestselling pool chemicals: Complete® 3" Multipurpose Chlorine Tablets at $99.99 for 40 pounds, and All In One Algaecide at $67.96 for two half-gallons.
PoolGear Plus Holiday Sale pricing can be accessed through the company's home page banner through November 28, 2011.
About PoolGear Plus
PoolGear Plus offers pool supplies, spa supplies, and a wide range of recreational items and accessories through their website, online catalogs, and print catalogs. PoolGear Plus provides pool maintenance information and how-tos through their blog and Facebook and Twitter pages. Customers have come to rely on PoolGear Plus for great prices and a fun, easy shopping experience from a one-stop shop dedicated to excellence in value and service.
###