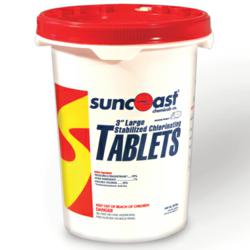 [PoolGear Plus'] prices on chlorine and other pool chemicals are the most competitive in the industry
Clearwater, FL (PRWEB) January 13, 2012
PoolGear Plus, which offers discount pool supplies online, has posted new Hot Deals on the home page of their website. Sale prices are valid until January 29, 2012 on chlorine tablets, spa chemicals, and pool liners, among other products. Hot Deals help PoolGear Plus customers minimize pool and spa maintenance costs while providing them with top-quality pool supplies.
Suncoast® Premium 3" Chlorine Tablets are on sale for $109.99 per 50-pound pail, a cost of just $2.19 per pound. Packaged in child-resistant but senior-friendly LifeLatch® buckets, these chlorine tablets dissolve slowly but completely to maintain the free available chlorine level that keeps pools healthiest. Suncoast Premium Chlorine Tablets are UV-protected for extended life and individually-wrapped for quality and ease of use. "Since we manufacture and package our own chlorine products, we're able to offer extra-low prices on chlorine tablets year-round," says Rachaelle Lynn, a PoolGear Plus Pool Care Expert. "Our prices on chlorine and other pool chemicals are the most competitive in the industry."
Spa Choice® Deluxe 90-Day Spa Chemical Kits are 15% off in the current set of Hot Deals; customers can select a chlorine or bromine spa chemical kit for just $50.99. Both types of kits include spa shock, spa fragrance, and spa chemicals designed to raise and lower pH, prevent scale formation, eliminate foam, and clarify water as well as chlorine or bromine sanitizer. "This is an especially great offer since we just lowered the prices on all of our spa chemicals," says Ms. Lynn. "We find that customers really love our spa kits because they're full of quality products that make spa maintenance easier and give them more time to enjoy their spas."
Select 28 gauge custom inground pool liners are on sale for the 20 gauge price at PoolGear Plus and ship within 72 hours after the customer's order is placed – guaranteed. A variety of beautiful styles that will make any inground pool sparkle are available. PoolGear Plus also offers Price Match Plus 10% on all custom inground pool liners; if a customer finds a lower price on a same-item pool liner elsewhere, PoolGear Plus will match that price plus discount the pool liner by another 10%. "Most customers don't need to use Price Match Plus 10% to get the lowest prices on pool liners, because we already offer them," say Ms. Lynn. "But the policy gives them more confidence in their purchases."
Hot Deals at PoolGear Plus are easy to get – the customer simply clicks through the deal they want on the company's home page and adds the item to their cart. When they finish shopping, PoolGear Plus customers enjoy zero sales tax, free shipping, and just an $8.99 handling fee no matter how large the purchase.
About PoolGear Plus
Backed by 35 years of experience in the pool supplies industry, PoolGear Plus offers tremendous expertise, fantastic values, and exceptional customer service along with a wide range of pool supplies such as chlorine tablets, pool shock, algaecides, water balancers, automatic pool cleaners, pool pumps, and pool filters. They also carry a full range of spa chemicals, spa fragrances, and spa accessories including maintenance equipment, steps, and custom spa covers. Other items available include a variety of backyard living products and patio accessories. PoolGear Plus strives to provide all the answers, tools and products pool and spa owners need for easy, economical maintenance and to meet their ongoing goal of 100% customer satisfaction with every product purchased.
# # #