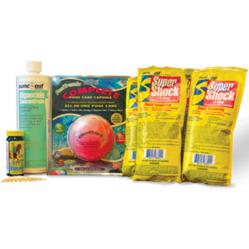 With discount code E12WI04, pool owners can save 10% on the new pool kits [at PoolGear Plus] through February 1, 2012
Clearwater, FL (PRWEB) January 27, 2012
Online pool supplies superstore PoolGear Plus is making their new spring start-up pool kits available for 10% off for a limited time only. Customers can use coupon code E12WI04 through February 1, 2012 to receive the lower price. PoolGear Plus has all-new versions of this spring pool supplies staple that make pool openings easier and more affordable than ever.
Swimming pools that have been closed for the winter require special care when they are being re-opened for spring. PoolGear Plus is including a new product in their pool kits, the Complete Pool Care® Pill, that contains many of the necessary pool chemicals in one or two convenient, easy-to-use capsules. This means the customer spends less time measuring and applying pool chemicals during spring pool opening.
The new spring start-up pool kits at PoolGear Plus include pool shock, pool algaecide, and the Complete Pool Care Pill. The amount of each product differs depending on the size of the kit. Pool kits are sold in sizes for up to 10,000, up to 20,000, and up to 30,000 gallon swimming pools.
The pool shock provided in spring pool kits from PoolGear Plus is Suncoast® Super Pool Shock, an extra-powerful four-way pool shock that kills bacteria, controls algae, destroys organic contaminants, and clarifies pool water. Suncoast Super Pool Shock helps prevent the need for tough in-season cleanups when used at pool opening and regularly throughout the season.
The second item in spring pool kits from PoolGear Plus is Suncoast Algaecide Concentrate, an excellent all-round algaecide treatment and preventative. A 50% quaternary, this pool algaecide keeps pool water clear and free of visible yellow, mustard, and green algae and algae slime. This pool algaecide is also safe for all types of pool surfaces and will not damage a pool's tile, concrete, metal, or plastic. It even improves pool filter operation and reduces the need for other pool chemicals.
The last item in PoolGear Plus spring start-up kits is the Complete Pool Care Pill, which includes a metal remover, oil and scum remover, water clarifier, and odor remover in one or two time-release capsules. These effective pool maintenance pills also remove grime, oil, and organic debris from pool filters.
Pool owners can also save on large chlorine tablets when they purchase them with their spring pool kits. The company offers them the opportunity to purchase a 15-lb, 25-lb, or 50-lb pail of Suncoast Premium 3" Chlorine Tablets with their 10,000, 20,000, or 30,000 gallon start-up kit for special bundled prices. Suncoast Premium 3" Chlorine Tablets are the strongest, freshest chlorine tablets on the market and come in senior-friendly, child-resistant LifeLatch® buckets. These full-strength chlorine tablets dissolve slowly but completely to maintain the proper free available chlorine levels in swimming pools.
About PoolGear Plus
As the manufacturer and packager of a diverse range of spa and pool chemicals, PoolGear Plus has the ability to offer the lowest prices online for these products. PoolGear Plus also offers a complete selection of other pool supplies including pool cleaners, pool pumps, pool filters, and other products that help maintain clean, healthy pools. While providing affordable prices on pool supplies is a top priority at PoolGear Plus, the company never loses its focus on exceptional customer service. PoolGear Plus: Your Pool Is Our Passion.
###