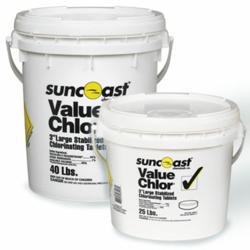 Three-inch chlorine tablets, bromine tablets, and Pool Shark® pool cleaners are on sale at PoolGear.com
Clearwater, FL (PRWEB) February 08, 2012
PoolGear Plus®, the best source for discount pool supplies online, has launched a new set of Hot Deals on their website. Three-inch chlorine tablets, bromine tablets, and Pool Shark® pool cleaners are on sale; a Hayward® Salt Chlorinator and new Dream Maker Spa combination packages are featured products. These Hot Deals expire February 12, 2012.
Suncoast® Value Chlor® 3" Chlorine Tablets, just $2.12 per pound with the purchase of a 40-pound pail, are top-quality large chlorine tablets at a budget-friendly price. The strongest, freshest chlorine tablets on the market, they dissolve slowly but completely to help maintain the free available chlorine levels that keep pools their healthiest. Individually wrapped and UV-stabilized for quality control and long life, these chlorine tablets are perfect for floating chlorinators and feeders.
At just $2.66 per pound with the purchase of a 45-pound pail, Pool Basics® Bromine Tablets are an excellent deal for bromine-sanitized swimming pools, spas, and hot tubs. The low level of corrosiveness and low odor of these bromine tablets make them the perfect selection for use in indoor pools and spas, but they are also stabilized against degradation by sunlight for use in outdoor pools and spas. Because they are chlorine-free, Pool Basics Bromine Tablets do not form chloramines, which can cause eye and skin irritation, and have less impact on vinyl liners and fabrics than products that contain chlorine.
Inground pool owners who are dreading the chore of manually cleaning their swimming pools as spring approaches can relieve themselves of this concern with PoolGear Plus' Hot Deal on the Pool Shark automatic pool cleaner. The Pool Shark is easy to install; the pool owner simply connects the hose to the pool's filtration system and places the cleaner in the pool. This pool cleaner scrubs the pool's floor and walls to loosen debris and then vacuums it up. It is safe to use on vinyl, fiberglass, and gunite pool surfaces.
Featured products in PoolGear Plus' Hot Deals include the Hayward SwimPure Plus Salt Chlorinator, which automatically produces pure chlorine every day while the pool is being filtered and distributes it evenly throughout the pool via the return jets. Using a low concentration of salt dissolved in pool water, this salt chlorinator produces up to 1.45 pounds of chlorine daily, enough to satisfy the sanitization needs of a pool of up to 40,000 gallons. The SwimPure Plus Salt Chlorinator provides a self-renewing supply of chlorine for pool water that is sanitary and crystal-clear for a soft, luxurious swimming experience.
Another featured Hot Deal is PoolGear Plus' new hot tub combination packages. PoolGear Plus' goal to provide the best values in the hot tub industry is met by these packages, with many free extras included in each hot tub purchase. New hot tub owners will receive a free hot tub cover, free hot tub steps, free bromine hot tub start-up kit, and free one-year supply (25 pounds) of bromine tablets. PoolGear Plus offers the popular Dream Maker Spa line, including hot tubs with Dream Maker's energy-efficient green$pa packages. The Dream Maker green$pa upgrade adds a two-speed pump and additional heating system that saves the hot tub owner up to 42% on electrical costs and is California Energy Commission compliant.
As always, consumers who take advantage of Hot Deals at PoolGear Plus will enjoy zero sales tax, free shipping, and just an $8.99 handling fee per purchase along with exceptional customer service and support.
About PoolGear Plus
PoolGear Plus specializes in providing the best in hot tub and pool supplies to their growing base of retail customers. From offering the lowest prices on hot tub and pool chemicals to continually expanding their wide selection of name-brand pool equipment and accessories, PoolGear Plus' drive for excellence means that they constantly focus on surpassing their own product, value, and service goals.
###