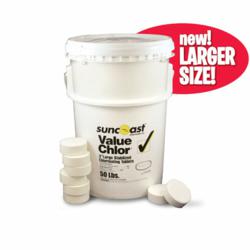 Consumers can access the PoolGear Plus Pre-Season Sale by clicking on the home page banner at PoolGear.com.
Clearwater, FL (PRWEB) February 25, 2012
Discount pool supplies company PoolGear Plus® has announced a pre-season sale on must-have pool supplies for the summer. Spring start-up kits, 3" chlorine tablets, pool shock and other pool chemicals, an inground pool cleaner, and solar pool covers are on sale. Consumers can access this sale by clicking on the home page banner or by entering discount code C12SP09B at checkout. Sale prices are valid through March 25, 2012.
Spring pool opening kits, which help provide a clean, healthy start to swimming pool season after a long winter, are 10% off in the PoolGear Plus Pre-Season Sale. Start-up kits are as low as $17.99 and offer easy-to-follow but thorough instructions on how to prepare the pool for summer as well as how to use the products in the pool opening kit. Complete Pool Care® Pills are designed to remedy the most common pool water issues and are included in every kit.
PoolGear Plus is offering bestselling Suncoast® Value Chlor® 3" Chlorine Tablets in a new 50-pound size at a low price of just $99.99. At just $1.99 per pound, these chlorine tablets offer economical swimming pool sanitizing without compromising on quality. Suncoast Complete 3" Chlorine Tablets are also on sale for as low as $3.19 per pound. These chlorine tablets offer much more than sanitizing by combining chlorine, water clarifier, stain prevention, algae prevention, and a descaler into one convenient tablet.
Suncoast Super Shock, an extra-powerful four-way pool shock that is perfect for pool opening and throughout the season, is also on sale at PoolGear Plus. Customers can purchase seven one-pound bags for the price of six, a savings of $3.49. Other pool chemicals on sale include algaecides, water clarifiers, water balancers, metal control, and pool stain treatment.
PoolGear Plus is proud to announce the addition of an extremely economical pool cleaner for inground pools to their product lineup for 2012. The head-only Orbit automatic pool cleaner is perfect for pool owners who already have hoses because it's available at the extremely affordable price of just $149.99. The scallop disc on the Orbit pool cleaner provides excellent suction for optimal movement around the pool. The one-piece body offers maximum strength and durability. The Orbit pool cleaner comes with a one-year warranty.
Pool owners who'd like to extend their swimming pool seasons can take advantage of PoolGear Plus' 10% discount on select solar pool covers during the Pre-Season Sale. Clear Advantage solar pool covers are made of material that is highly resistant to ultraviolet rays to inhibit deterioration. Solar pool covers also save pool owners time and money by reducing pool water evaporation and reliance on more expensive types of pool heating.
There are many other pool supplies products that will help pool owners enjoy a great swimming pool season on sale at PoolGear Plus through March 25, 2012.
About PoolGear Plus
Online pool supplies company PoolGear Plus is the fastest-growing internet and catalog company in the US. As the manufacturer and packager of a wide variety of pool chemicals and with 35 years of experience in the pool supplies industry, PoolGear Plus is able to offer deep discounts on pool supplies and other outdoor and recreational equipment to its growing customer base. Backed by fantastic customer service from swimming pool professionals and a commitment to excellence in everything they do, PoolGear Plus is well-positioned as a pool supplies retailer as they continue to capitalize on their lengthening list of industry achievements.
# # #