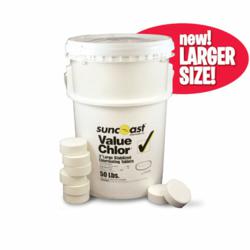 At $99.99 for 50 pounds, customers simply won't find a lower price on 3" chlorine tablets
Clearwater, FL (PRWEB) March 06, 2012
Discount pool supplies superstore PoolGear Plus is offering their bestselling chlorine tablets in a new larger 50-pound size. Suncoast Value Chlor 3" Chlorine Tablets are also a low-price leader in the pool supplies market at just $1.99 per pound with the purchase of the new 50-pound size.
Chlorine is a sanitizer that helps keep swimming pools bacteria- and algae-free, making them a healthier place for pool owners and their families. Chlorine also helps control organic contaminants, such as those introduced into swimming pools from wind, dust, rain, and swimmers. Because it oxidizes while it sanitizes, chlorine also gives swimming pools crystal-clear water, offering a more attractive and inviting appearance to pool owners' family and friends.
Suncoast Value Chlor Large Chlorine Tablets are full-strength, slow-dissolving chlorine tablets that provide 90% available chlorine with 99% of the active ingredient Trichloro-S-Triazinetrione. PoolGear Plus is able to offer the strongest, freshest chlorine tablets on the market because they manufacture their own chlorine tablets. "At $99.99 for 50 pounds, customers simply won't find a lower price on 3" chlorine tablets," says Rachaelle Lynn, a Pool Care Expert at PoolGear Plus. "These are top-quality large chlorine tablets at a budget-friendly price."
Perfect for floating chlorinators and automatic feeders, Suncoast Value Chlor 3" Chlorine Tablets offer easy weekly maintenance – the customer simply places one or two tablets in their pool chlorinator each week. These chlorine tablets then dissolve slowly but completely to maintain the free available chlorine levels that keep swimming pools healthiest.
Best used with PoolGear Plus' ABCs of Pool Care system, an easy three-step pool process for weekly pool maintenance, Suncoast Value Chlor Large Chlorine Tablets are stabilized and UV-protected for extended chlorine life. They come individually-wrapped for ease of use and quality control. "They're everything a pool owner could want in a chlorine tablet," says Ms. Lynn. "Perfect quality at a perfect price!"
About PoolGear Plus
PoolGear Plus is the number-one resource for pool supplies online, offering the lowest prices, free shipping, and a low $8.99 handling fee per order. PoolGear Plus also provides pool maintenance tips and how-tos via their blog and social media, including Facebook, Twitter, and Pinterest. Pool owners have come to rely on PoolGear Plus for the best prices and fun, easy shopping for pool supplies through PoolGear Plus' website, online catalog, and print catalog. Dedicated to value and service, PoolGear Plus provides everything pool owners want and need for their pools.